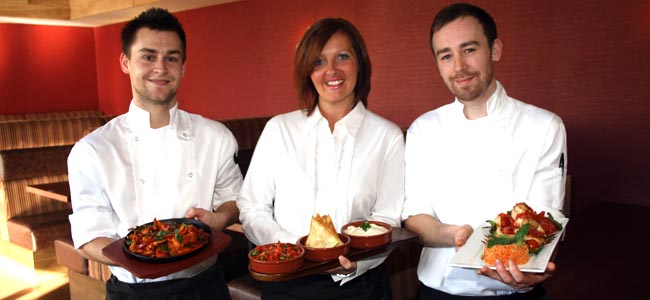 One of the region's biggest leisure centres is getting ready to launch their latest venture and plans are well underway for take-off.
As revealed in our latest Aycliffe Today Business, Planet Leisure, which is situated on Maple Way on Aycliffe Business Park, have opened fully refurbished Tex-Mex restaurant, 'The Smokin' Burritos', and in parallel have created a tempting corporate lunchtime menu for the business park with a mission to supply quality fresh food and to excite the taste buds of their business neighbours.
Owner Darren Peckitt said: "For the business lunchtime menu we want to offer a range of restaurant quality fresh food in a great environment and at very competitive prices. Planet Leisure has a team of talented chefs based here and it makes complete sense to utilise them to offer this service.
"The kitchen will take pre-orders so the food is ready for the customers on the park during their lunchtime and where possible we will also deliver to their door to make us a very convenient option for them."
Customers from the park can enjoy tasty delights from the new menu such as burritos or wraps, BBQ pulled pork, chilli beef and homemade meat balls to name a few, all served with coleslaw, salsa and wedges for just £4.95 to include a soft drink of their choice, or a cup of Twining's tea or Lavazza coffee.
The lunchtime offering is part of the exciting new Tex-Mex theme at the restaurant and complements the full evening menu, where diners can sit back and enjoy a full range of mouthwatering dishes such as chicken and chorizo skewers, Cajun baked salmon, Tex Mex sharing platters and authentic sizzler dishes amongst other delicious options.
The restaurant has been fully redecorated and enhanced with oak cladding and new mood lighting to create an enjoyable ambience for diners.
For the brave, diners can take up the new 'Hot Hot Hot' challenge where they have the chance to take up their position on the restaurant 'Wall of Fame' if they can conquer the variety of food challenges such as burning hot meatballs, stuffed chilli peppers, red hot chicken wings, or the 'beat the burger challenge'.
Darren said: "I have always wanted Planet Leisure to be a destination where there is something fun and exciting happening every night and this includes the new restaurant.
"We want it to be a dining experience to remember, all the food is locally sourced, including suppliers from the park; for anyone who is fed up of fast food but want quality at the same price come and give us a try."
The new menu has also been tried and tested by the 30-strong team of staff at Planet Leisure, who spent an evening tasting the new recipes cooked by the chefs especially for them.
Restaurant and functions manager Nikki Rotherham said: "It was a great night, at first the staff weren't sure about the new menu but once they tasted the food they were just blown away and couldn't wait for us to launch it."
The restaurant service is being further extended to provide both on-site and off-site catering options. Planet Leisure has a fully-equipped, 130-seat Function Room capable of supporting a range of corporate functions and events with packages starting from £4.95 per delegate. For corporate customers who require quality catering at their premises the chefs are able to create an individual menu to suit requirements.
Planet leisure was launched in 2011 and started with just the ice rink and the 10-pin bowling. It is now a one-stop-shop for entertainment and excitement, including a100-metre aerial trekking course boasting 16 individual elements suspended five metres above the ice rink, a laser tag arena extending to 5000sq. ft, two impressive high tech karaoke pods and an arcade area.
Further plans for entertainment include using the first floor function room which can be used for private parties, Christmas bookings events and conferences, too.
Up-and-coming events for visitors to look forward to include a Ladies night, Comedy night, DJ nights and Salsa night giving the grown-ups chance to enjoy what's on offer at Planet Leisure.
Facilities and activities manager Keith Cresser added: "We're here for the community and we are trying to cater for all needs, I think it helps a great deal that it is a family owned business and we understand what customers want and need and we will do our best to deliver that for them."
For a copy of the new restaurant menu or for details on any of the events please contact Nikki Rotherham on 01325 310989.
To claim a free home baked chocolate muffin with your first lunch time order please quote ATB PL