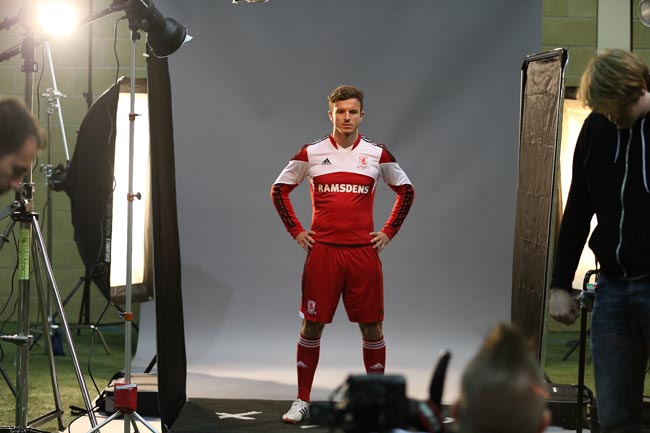 Middlesbrough have revealed their striking new 2013-14 adidas kit designs, which go on sale to Season Card holders today (Saturday) with general sale on Sunday.
The home shirt echoes a popular club tradition by re-introducing the white shoulder yoke, which first featured on Middlesbrough shirts before the First World War and was last seen in 2011-12.
Also sure to be popular is the blue-and-black-striped away design first used by Jack Charlton's 1973-74 Second Division championship-winning side and which has since become a Boro classic.
A notable feature on both home and away strips is a redesigned logo from shirt sponsor Ramsdens, which now appears in plain white.
Ramsdens chairman Stewart Smith said the move was in response to supporters' comments and builds on the strong links the Teesside company has forged with the club during the last three years.
"We have listened to what the fans have said about our logo and wanted to make a change to give the kit as strong a look as possible," he added. "At the same time, we are keen to continue giving our company the great brand recognition it receives through our association with Boro."
Boro are confident the new adidas strips will continue to please fans, thanks to the sportswear giant's great designs and product quality. The 2013-14 kit once again showcases adidas' innovative performance fabric technologies.
Available soon – although not on pre-order – are new-look home and away goalkeeper kits, featuring two of adidas' eye-catching colour options, shale (grey) and macaw (bright green). Details of mini kits and training wear will also be announced in due course.
Go to mfc.co.uk for full details and to order.