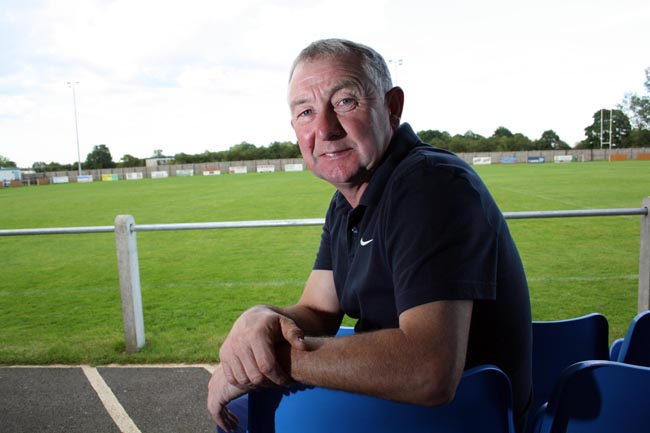 Aycliffe Today editor Martin Walker gives his take on where Newton Aycliffe FC go from here…
It'd be easy to point the finger and ask serious questions after Aycliffe's forgetful season sank to a new low on Saturday.
Defeat against Esh Winning – so-called lesser opposition who are doing alright in the second division – signalled the end of another FA Vase campaign, and compounded what's already been a thoroughly miserable season.
It is difficult to remain upbeat, and the Aycliffe media team has just about run out of positive spin now, but when you're starring adversity in the face like this, togetherness is a basic requirement.
We can all be guilty of jumping the gun, at times. Football is a passionate game, and poor results can provoke kneejerk reactions. Just ask Darlo fans.
But the true character of a club is in how you deal with ill-fortune. It's easy to celebrate winning a league – sipping champagne out of the Northern League second division cup just 18 months ago was indeed a memorable moment – but when you've hit a height, and arguably gone as high as you can in the current climate, it is difficult to rally the troops when you're in descent.
When you take a sensible, objective look at Aycliffe's problems and, more to the point, their rapid recent success, there are several potential contributions towards their current predicament – and maybe it's a bit of all of them.
Too far, too soon?
When Allan Oliver (pictured above) and Gary Farley took over at Aycliffe some five or so years ago, the target was to get into the Northern League.
Year One ended with five cups, including the Durham Alliance League title, and promotion to the Wearside League.
Year Two ended with the Wearside League title and promotion the Northern League.
Year Three ended with consolidation and a commendable ninth-spot in their debut Northern League second division season.
Year Four ended jubilantly – promotion to the first division sealed early on, followed by the Northern League second division title before the season ended. Party time.
Year Five took the whole of the Northern League by surprise as Aycliffe spent most of the season in the top six, eventually finishing ninth. Another fantastic campaign.
Year Six, three months in, Aycliffe are at the foot of the first division with one win in 13 and out of both the FA Cup and Vase.
Rather than building gradually, perhaps their surge up the football pyramid system was all too much, too soon. But we weren't complaining when Sean Tarling and Dan Mellanby lifted that trophy back in April 2011, were we?
Over-achieved?
You could argue Aycliffe over-achieved in 2011-12 – punched above their weight – and this is just a reality check. The club is used to winning and enjoying success – experiencing the lows is a very different ball game.
Losing key players
You could argue Aycliffe have lost too many key players – namely Elliot Gardner, Ben Wood and Warren Byrne – who haven't been replaced, but replacing those players was a job in itself.
Poor start
You could argue Aycliffe's early FA Cup demise played a significant part in their poor league campaign – a win at Holker Old Boys in that midweek replay back in August would have made for a very different build-up to the opening league game at Marske United.
Poor business backing
You could argue Aycliffe just doesn't warrant a Division One club. The core of fans remain and gates are still decent, and while support from some firms is good, generally speaking the local business support is chronically bad. This is, in my opinion, the club's biggest Achilles heel.
Stronger league
The league is much stronger this season than it was last. Even without the obvious addition of Darlington, other clubs have budgets far superior to Aycliffe's – I refer to my point about business support – meaning they get the better players, because as much as we love the Northern League for its "grass roots", players are semi-professional, and money talks.
You can definitely say that at least some of the above have all contributed towards Aycliffe's slide in fortunes, but what is the answer? What do Aycliffe need to get themselves out of this existential funk?
First and foremost, the management team will leave no stone unturned in trying to solve the problems, in trying to galvanise the troops, in trying to get that elusive result that could kick-start their season.
But if, for whatever reason, Aycliffe can't turn it around, it wouldn't be for the want of trying.
The boss, Allan Oliver, is one of very few volunteer managers in the Northern League – in fact, he has put his own money into the club's coffers to keep it afloat. The fact he doesn't crow about it – and asks us not to – says a lot about him.
The chairman and assistant manager, Gary Farley, is also a volunteer and spends endless hours organising things, watching games, taking training, preparing for matchdays. He doesn't get a penny.
The new coach, Dan Mellanby, will only have a positive impact on the players in his new role as he begins a promising coaching career.
Then there's the management committee. The grafters behind-the-scenes, the "unsung heroes". The Secretary Steve Cunliffe who looks after all the paperwork, Paul McGeary who keeps the books, sponsorship manager Barry Waters who pulls in much-needed advertising and organises events, his missus Louise who gives the club's guests a warm welcome and a half-time cuppa and her homemade cakes, Glen Robertson who churns out a programme for every home game and runs the website, John Gaskarth who looks after the PA, Rob Tarling who runs the gate, Bob and Yvonne Wood who manage the predictor (amongst other things), and Dan Lewis who, generally manages… then there's the legend Frank Swinburn.
All these people, together with the football management, make the club tick, and the club's fantastic supporters keep them all going by turning out every week.
As long as these key people remain involved, there will always be a club. Players will come and go, and the level of football may change from time-to-time, but as long as the backbone of the club is in place – as well as the core of players such as Darren Craddock and Sean Tarling – it'll always be on a sound footing.
What Aycliffe need now is a big show of support. Football fans are fickle and like to watch a winning side – Aycliffe topped nearly 600 for a derby with Darlington RA in the second division two years ago – but the club needs more than just its hardcore.
Supporting your club is as much about experiencing the lows as it is about celebrating the highs, so when it comes to the good times, you can say "I'm there through thick-and-thin".
Billingham Synthonia come to Moore Lane Park this Saturday. Aycliffe have opened the gates to give Under-12s free admission with a full-paying adult, in an attempt to connect with the town's younger football fans.
The club also need their older ones to re-connect with them if they're to stand any chance of avoiding relegation from the first division.
Come on, let's be havin' ya…
Newton Aycliffe v Billingham Synthonia
Saturday 20th October, 2012 (3pm kick-off)
Admission £5 adults, £3 concessions
KIDS GO FREE (Under-12s go free with a full-paying adult, ticket required)