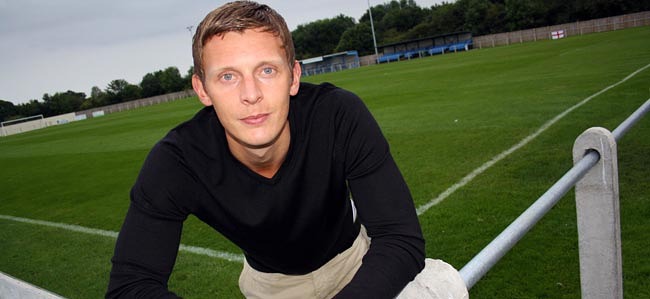 PREVIEW: Newton Aycliffe v Hebburn Town, Saturday November 2, 3pm (Moore Lane Park)
By Sam Tuckey
Newton Aycliffe skipper John Close has been through a lot during his time with the club.
Having been with the Royal Blues through their meteoric rise through into Northern League Division One and seen a number team-mates come and go from Moore Lane Park, the dependable defender has witnessed many highs and lows.
But the current campaign has thrown up all kinds of events. From high-scoring thrillers in league and cup to the heartbreaking news of goalkeeper Dan Molyneux being forced to retire from the game, the 2013-14 season has been full of incident and it is not even halfway completed.
The latest setback came at Brewery Field where title-favourites Spennymoor handed Aycliffe a 5-0 defeat.
Close, who has been suffering with injuries lately, held no punches when it came to assessing his performance in the rout.
"Where do you start? Personally, I had a horrific game," he admitted.
"First and foremost I have to look at myself. I was really poor and cost us a couple of goals. You need to look at yourself first and foremost.
"I've come back and played four or five games but I feel like I'm constantly playing with injuries.
"I haven't been afforded the time to get fit and I think that showed in the Spennymoor defeat. I was a mile off the pace.
"I could do with spending some time getting fit before playing, but at the minute with our limited squad size I have to play."
Another player who has been unfortunate with injury is Molyneux. The keeper has gone into early retirement after been advised by doctors after suffering a bleed on the brain against Tow Law Town in the Durham Challenge Cup.
Molyneux had started life with the Newtonians impressively – even scoring a goal in the FA Cup – after arriving from Billingham Town where he picked up the players' player of the year award.
When asked about the incident John said: "I've sent him a couple of tweets to wish him all the best. It's a real shame, he's a good goalkeeper and he's a good character in the dressing room so it was disappointing to lose him but I fully understand his decision, if I was advised to stop playing I think I'd make the same decision."
Top scorer Danny Earl has also left the club this season, leaving for Northern League rivals Marske United.
"It was disappointing to lose Danny but you can't deny him the opportunity to go play for one of the best teams in the league this year," said John.
Putting the defeat against Spennymoor to one side, the club have had made a sturdy start to the season and are now sitting in 13th place in the Northern League.
Close said: "We've had some really positive results and a couple of good runs but equally we've had some disappointing results.
"I think were lying roughly mid table in the league and that's probably where a team of our budget should be by the end of the season. Irrespective of our start that's what we should be aiming for and possibly pushing to the top half. That would be fantastic."
Clean sheets have been hard to come by this season. When asked about the issue the defender said: "Defensively, it hasn't been great. I wouldn't want to blame just the back four but we've certainly got to address it because we're leaking far too many goals.
"If we continue to leak the amount of goals we are then we'll only be heading in one direction."
However, John went on to add: "We do score a lot of goals, we've got some good players in attack in particular Jamie Owens he's a free scoring striker.
"You're guaranteed to get goals with a team like ours. As a neutral if you want to come and see an exciting game then I'd definitely be tipping us for one of those."
When asked about his personal aims for the season he said: "I would like to get through the rest of the season without any major injuries and just being the best I can be for our team.
"As a team if we can finish mid table, pushing to the top half then that would be a great season for Newton Aycliffe."