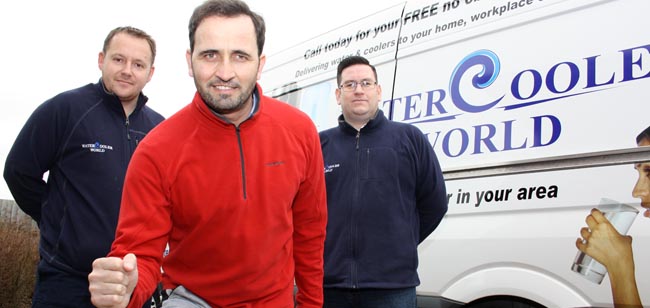 Research has found keeping your staff hydrated can increase productivity by 10% – but this lot have taken it to the extreme!
Staff at Water Cooler World and Driver Hire, based in the same offices at Carlton House, the HUB, have agreed to run this year's Hamsterley 10k to raise money for the Butterwick Hospice.
Boss Lisa Fleming has also agreed to sponsor the event, and says she's delighted to see her employees taking part.
"It has created a lot of banter in the office over who'll do the best time," said the MD.
"It's good for morale but it's also good to see your staff keeping healthy and doing their bit for charity."
Independent reports have shown that well hydrated staff can be as much as 10% more efficient than those who don't take on regular fluid.
Water Cooler World can supply businesses with a water cooler for less than the cost of buying a small plastic bottle of water every day.
Lisa added: "We can supply you with all the cool and refreshing water you can drink for as little as £4.60 per week.
"Your staff will also see it as a sign that you care about them – and a little goodwill can go a long way."
Water Cooler World can also supply businesses with hot drinks machines, and are currently offering Aycliffe Business Park firms a FREE two-week trial on all their supplies.
● Call them on 01325 952777 and quote Aycliffe Today.