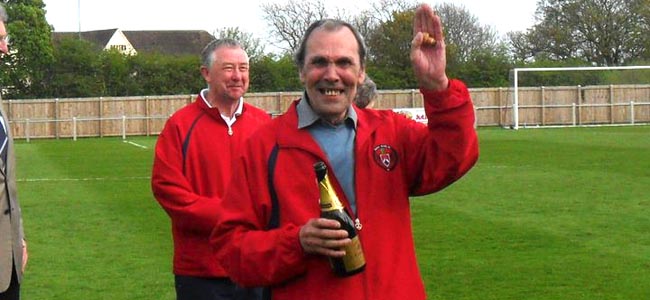 Aycliffe Today editor Martin Walker pens a tribute to Aycliffe FC legend Frankie Swinburne…
Frankie Swinburne was no Sunderland fan, but he did his best Bob Stokoe impression when Newton Aycliffe won promotion to the Northern League first division a couple of years ago.
Saturday 26th March 2011 was the date. A 6-1 victory at Seaham signalled the beginning of Aycliffe's early promotion party, and the final whistle sparked Frankie's solo pitch invasion, mimicking Stokoe's famous 1973 FA Cup Final sprint across the Wembley turf.
Frank ran, like a giddy school kid, to celebrate with the Aycliffe players. The joy was reciprocated, because the players knew it meant as much to Frank as it did to them. Then, back in the changing room, with the champagne flowing, there were tears. Tears of unbridled delight.
Frank had just turned 69. But he still had the passion for football of a nine-year-old, and his enthusiasm really was infectious. It put the "young 'ens" to shame.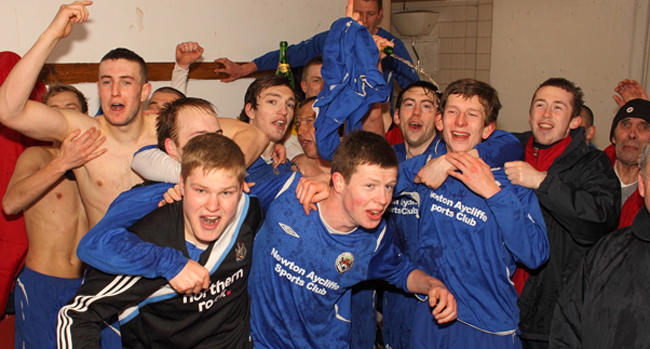 Frankie pictured (far right) after a 6-1 win at Seaham clinched promotion
Sadly, Frank passed away on Sunday 24th March after a short illness, leaving an irreplaceable void for his many friends and family.
He was involved with Aycliffe FC from top to bottom. He had no fancy job title, he had no interest in internal politics, but he was the ultimate unsung hero.
As chairman Gary Farley put it: "He cut the grass. He painted the fence. He laid concrete for the new stand. He walked 25 miles to raise money, aged 70. There was barely anything that Frankie didn't do for his club.
"He was in tears when Sean Tarling and Dan Mellanby lifted the second division championship trophy, and who can ever forget his smiling face at the presentation night?
"He was a true, true gentleman loved by everyone at the club and the Big Club."
Frankie and fan Peter Allison walked from Aycliffe to Northallerton for a game, to raise cash for his beloved club, a few years ago. Efforts which pulled in £1,250, and a cheque hand-over which brought a standing ovation – and more tears – at the club's presentation night.
Peter read some moving words at Frankie's funeral service at St Clare's Church, on Wednesday 3rd April, with hundreds of people turning out to pay their respects.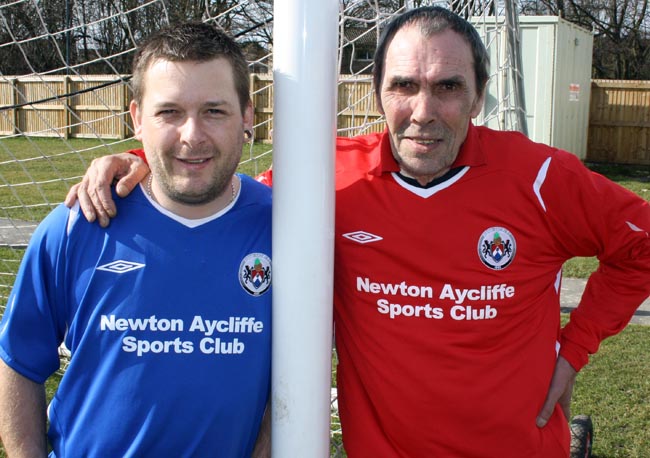 He recalled their trek to Northallerton. "We were nearly there when a coach passed us with Aycliffe fans cheering at us and shouting our names. Frankie turned to me and said, 'we've done it, son', before we linked arms to walk the rest of the way. He was simply the best."
As well as his love for Aycliffe, Frankie loved Horse Racing. He loved a bet, and 5s & 3s. He loved Newcastle United, Pigeons and Bowling. And, more importantly, he loved his family and friends.
One of his biggest pals, Aycliffe boss Allan Oliver, shared a cabin with him on an end-of-season ferry trip to Amsterdam.
"He climbed up to the top bunk and crushed my razor and shaving foam," recalls Allan. "He was some boy and he'll be hugely missed."
Frankie was also a huge figure with Sunday morning side Newton Aycliffe WMC, ran by the Boro goalkeeper Jason Steele.
"We've lost a legend," said Steele. "A man who lived for his football. A proper man. The nicest man you will ever meet. He made me smile every Sunday morning whether we won or lost on a Saturday."
Frank was born in Gateshead, brought up a staunch Newcastle fan and lived in Consett before moving to Aycliffe 40 years ago, and worked as a sheet metal worker at Darchems in Stillington for more than 30 years.
He leaves wife Pauline, son Frank, daughter Diane and son-in-law Kevin, granddaughter Hannah, grandson Luke and brother Billy.
Frank junior said: "We knew Dad was popular but when Hannah started to read out all the messages on Facebook and Twitter, it was just unbelievable.
"Jason Steele's comment was read out and Mam started to cry, we never knew just how much he touched people's lives, it was lovely and it was a massive comfort for all the family.
"It was also nice to see everyone who came to visit him when he was poorly. He was particularly fond of Stuart Owen and got quite emotional after his visits. It meant so much to him."
Newcastle play Sunderland this weekend. Frankie will no doubt be watching the derby somewhere with Frank Batley, cheering on their Toon Army and sharing a bag of Black Bullets while sipping on a red-hot cup of Bovril. Two local heroes together.
More pictures of Frankie below…