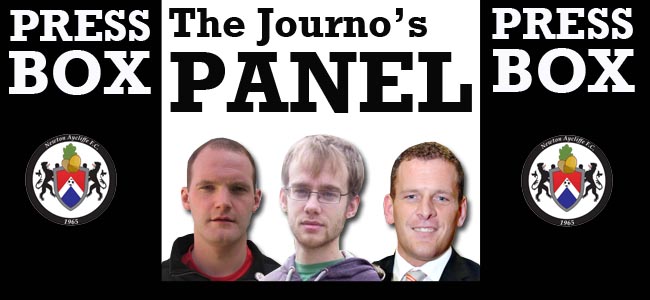 Our panel of three football writers give their predictions on Newton Aycliffe's game this weekend…
Three points are awarded if our 'experts' pick the exact score, 1 point awarded if they get the result correct.
Martin and Paul clawed ground back on fence-sitting Glen last week, by both predicting victories over Team Northumbria.
Glen Robertson – 10
Paul McGeary – 9
Martin Walker – 8
Looking to improve their fortunes this week, the panel run their eye over the trip to Guisborough.
Glen Robertson
This fixture is one of the most eagerly anticipated of the year at the club. On paper, Newton Aycliffe versus Guisborough shouldn't be that remarkable, but it is. Games are very rarely dull as both clubs battle away ferociously for 90 minutes. It's not a game for players enjoying time and space on the ball, and it is very unlikely one side will run out comfortable winners. Only once in six meetings has the winning margin been greater than one goal – and that game saw Aycliffe come from two-goals down to win 4-2. Guisborough aren't in the best of form at the moment, while Aycliffe are playing their best football of the campaign at the moment. But they'll have to match that easy-on-the-eye style with some extra graft on Saturday if they're to record another victory. Hopefully, Aycliffe will be recording a third successive victory, but don't go expecting another five-goal haul. I'll settle for one each from Danny Earl and Fred Woodhouse this weekend.
Guisborough 1-2 Newton Aycliffe
Paul McGeary
Our fourth trip to King Georges and year-on-year our fortunes improve. A narrow defeat in division two was followed by a draw with 10-men in our title campaign and then last year we grabbed victory by 1-0. There have been some titanic battles with the Priorymen both home and away and there is no love lost between the two sides for the 90 minutes in which they contest battle. Guisborough have started the campaign the better and are one of only two sides to beat Darlington in the league so far, a 4-1 thumping here in September, so this will be no picnic, despite our recent form. However, the lads are bang in form, the Stockton natives have the bit between their teeth and they'll know one or two of the opposition dressing room so will be looking once more for the bragging rights. Keep Luke Bythway quiet and we'll see this one off in the second half.
Guisborough Town 1-3 Newton Aycliffe    
Martin Walker
Guisborough v Aycliffe – or Tom Blenkinsop v Phil Wilson. The battle of the MPs promises to serve up an interesting clash. Blenkinsop is MP for Middlesbrough South and East Cleveland, and Guisborough's president. Wilson is, of course, our president and Member of Parliament. They're both expected to be at King Georges on Saturday, when I predict "Blenky" will be crying into his post-match beer.
Guisborough Town 1-2 Newton Aycliffe