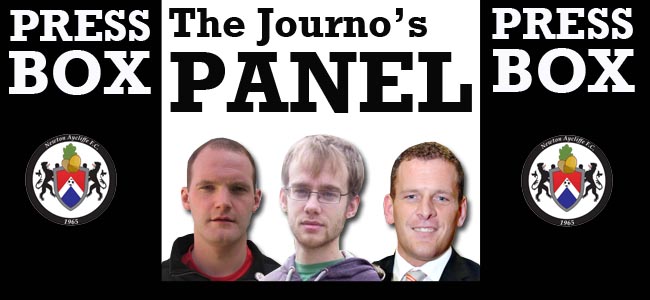 Our panel of three football writers give their predictions on Newton Aycliffe's game this weekend…
Three points are awarded if our 'experts' pick the exact score, 1 point awarded if they get the result correct.
Glen stretched his lead by a point by predicting a Shildon victory.
Glen Robertson – 10
Paul McGeary – 8
Martin Walker – 7
Looking to improve their fortunes this week, the panel run their eye over the visit of Team Northumbria.
Glen Robertson
Wednesday night was a terrific occasion for the club. A truly must-win game and the lads did it in style. They could have even scored more. But Saturday won't be as easy. Team Northumbria are a good side, will come to play football and won't leave a massive gap for our quick forwards to run into. But thanks to Wednesday's result, a point won't be such a bad result.
Newton Aycliffe 1-1 Team Northumbria
Paul McGeary
Wednesday nights result and second performance has been long overdue and everyone in the camp now believes we are starting to turn the corner. Saturday serves up another side in the bottom half and one who have had a recent hex upon us, including some big victories in the last two league meetings. The Stockton boys are back on form and with injuries clearing up, and a strong pool to choose from, I see no reason why we can't build on the Norton victory. There will be goals, as both sides fashion chances, and we'll get more than our visitors and record back-to-back victories for the first time this campaign.
Newton Aycliffe 4-2 Team Northumbria  
Martin Walker
Wednesday night was the result we've all been waiting for, and the result we've deserved for some time. And after a great start to the season, Team Northumbria haven't won since 2nd October, a 3-2 victory at Sunderland RCA, which has seen them slide down the table, so they come into the game with their confidence low, so I'm predicting us to build on our recent form and climb out of the bottom three with a win.
Newton Aycliffe 2-0 Team Northumbria