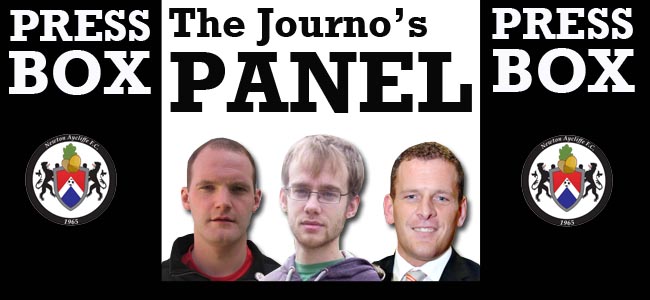 Our panel of three football writers give their predictions on Newton Aycliffe's game this weekend…
Three points are awarded if our 'experts' pick the exact score, 1 point awarded if they get the result correct.
Paul McGeary maintained his slender lead over his fellow experts as all three predicted defeat at The Brewery Field last weekend. Martin Walker missed the correct score by a mere goal!
Paul McGeary – 2
Martin Walker – 1
Glen Robertson – 1
Looking to improve their fortunes this week, the panel run their eye over the turnaround visit of Marske United.
Paul McGeary
I honestly don't know where to go with this one. I have started picking up prediction points as we continue our barren run, yet it feels like I am cheating on my wife or even worse, winning money at the Bookies by backing Liverpool! Twenty minutes aside on Tuesday night, we were awful and with no relent to the injuries, and the ever-changing faces in the front six, I can only think once more we'll be on the wrong side of the result this weekend. However, I saw the hurt on the faces of the lads as they trudged off the plastic at Durham, and having spoken to Hughesy at length, I know how much it is hurting the lads to get a win. Couple that with the fact that it'll be Darlo up next, then the Vase, we really do need to get some momentum going before our season really does run away from us. I'm going for a home win. Then an away victory at Darlo, a crushing Vase win, a cup victory at Consett…
Newton Aycliffe 2-1 Marske United
Glen Robertson
We keep saying this first win is around the corner, and we keep being disappointed. At least we were creating chances on Tuesday night, which is a good sign, though the amount of times Scott Pocklington was called on to make terrific saves isn't. But I think the return of Mark Peck for Saturday's game can't be underestimated. He is a terrific defender at this level and a pairing of him and Craddock is a very good one. Get John Close back fit as well and we should be back to having one of the tightest defences in the league. Danny Earl was impressive at Durham and he's used to scoring goals at Moore Lane Park! Hopefully he can replicate the hat-trick he got for Synners and get the bragging rights over his mate Danny Lambert who will line up for Marske. But I can't see there being many goals. It'll be tight and tense – as it was at their place three weeks ago. I've got a feeling Aycliffe will pinch it, which may not be a good sign with my prediction record.
Newton Aycliffe 1-0 Marske United
Martin Walker
Rose-tinted spectacles firmly off, I think this really is where our season starts! Too many false dawns have let us down this season, but we can point to a multitude of reasons. Last Saturday's stubborn display at Spennymoor was enough to convince me we have more than enough to get ourselves out of this mess. The core of the players are committed and, with a number of players returning on Saturday, we'll be a different entity. Let's all be positive!
Newton Aycliffe 3-1 Marske United