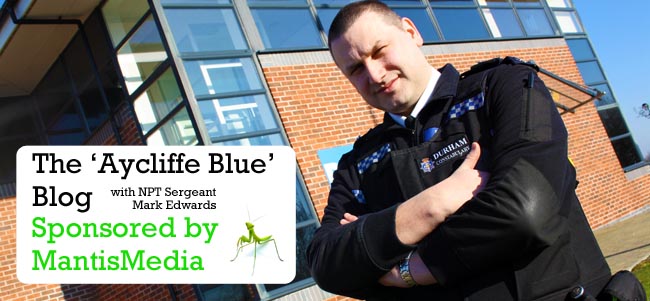 Aycliffe Neighbourhood Police Team Sergeant Mark Edwards continues his regular blog on Aycliffe Today…
Hello all,
The team has been at full capacity of late following the arrival of PCSO Nicola Shaw to the team and the return from long term absence of PC Tracy Henderson and PCSO Amy Jorgeson – and of course, not forgetting PC Mike Welch who is fully embracing his role and loving every moment of it!
As ever the team continues to look at how we can improve community engagement and demonstrate our commitment towards the people of Newton Aycliffe.
The team have been rolling out 'mobile PACT's' – one such example occurring on Wednesday evening in Hawkshead Place.
I am sure I don't need to outline what PACT is. We are conscious that for whatever reasons some people cannot attend the regular forums that we hold each month in each of the beat areas across the town.
The mobile PACT is in addition to this and simply consists of members of the team been in a set location at a set time (advertised in advance of course) in one of our vehicles.
Last night's event at Hawkshead Place was a success with many residents approaching Officers in our vehicle and engaging them in relation to issues they felt impacted upon them.
Some of these issues had not been raised at the regular PACT meeting so the mobile forum has now given us a further insight into problems impacting upon local residents.
Look out for details of upcoming events – these will be advertised via our social media sites, in local press, on Aycliffe Today, and through leaflet drops.
On a slightly more humorous note now (although, having a good cause in mind)…
What are your thoughts on seeing Aycliffe NPT do a 'gangnam' style video?
Strange question you may think, however you may have seen some of the 'Youtube' videos done by various Policing Teams across the country for charity – one such example being 'Falmouth Gangnam' which was created as a way of raising support for a 12-year-old boy with severe disabilities.
The team here at Aycliffe are interested in possibly doing something similar for charity but we would be very interested in hearing your views on this one.
Could you imagine myself doing the Gangnam in Aycliffe Town centre or Mike Welch strutting his stuff in Tesco?
Back to business and it's over to some court results now…
On July 26, at Newton Aycliffe Magistrates Court, Jason Andrew Bolingbroke, 19, of no fixed address, was convicted of stealing a car stereo and satellite navigation system from a vehicle in Newton Aycliffe. Three other like offences were taken into consideration and he was sentenced to four weeks imprisonment.
David Gary Ryan, 41, from School Aycliffe, appeared at Peterlee Magistrates' Court on July 23, charged with possession of a class B Controlled Drug. He was conditionally discharged for 18 months and ordered to pay a £15 victim surcharge.
Until next time,
Be good!
Mark J Edwards Aycliffe NPT Sergeant