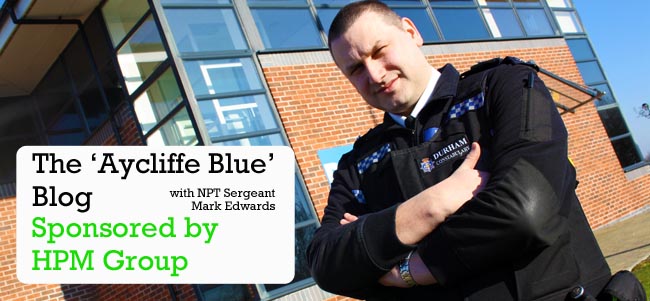 Neighbourhood Police Team Sergeant Mark Edwards continues his regular blog on Aycliffe Today…
Here we are at the back end of July and the weather continues its attempts to dehydrate members of my team during their daily patrols – no-one's melted yet!
As I script this blog I am currently covering for Inspector Mark Hall on the Neighbourhood Team so as well as casting my shadow over Newton Aycliffe I am also keeping the teams at Sedgefield and Shildon in check also.
What things are new? We are trialling a new 'NPT Diary Car' with our colleagues at Bishop Auckland Neighbourhood.
The idea of this is that we operate a 'By appointment' system whereby when a member of the public reports an issue to the Police and appointment will be made and on the stated date and time an Officer will attend.
I must stress, however, that this will only apply to those incidents that are deemed suitable – where time is not a critical factor in progressing the matter. Crimes requiring an immediate response (crimes in progress for example, road traffic collisions or other issues impacting upon the highways) will still be dealt with in the usual manner.
This process will allow our Response colleagues to focus more on priority issues, problem areas, target identified criminals and for the neighbourhood Officers to work more in the community with local residents and our partners.
The Diary Car has been set up with victim focus strongly in mind and the appointment system guarantees that callers for scheduled non-urgent matters will get to speak to an Officer – receiving their full attention and support, without the worry that they might called away to other ongoing matters.
I would also like to encourage residents to check out our Durham Constabulary Website www.durham.police.uk and from the Newton Aycliffe pages (found behind the 'Your Neighbourhood' tab) check out details of our PACT forums.
PC Tracy Henderson is back with the team now dedicated to Woodham ward and PC Mike Welch returns next week to West Ward and Greenfields.
Along with the others, the team is fully up to strength so please continue to follow our 'exploits' via Aycliffe Today, Facebook, and/or Twitter.
Right, so onto some court results now…
Karl Anthony Kelly, 30, from Clanny Road, Aycliffe was sentenced to 18 months imprisonment at Durham Crown Court on July 19, in relation to assault and witness intimidation. He was also made subject of a restraining order for five years prohibiting him from contacting the victim or members of the victim's family. These offences had stemmed from a long running and protracted neighbourhood dispute within the Rowan Place area of the town and were appaling acts committed – the result is fitting.
Clive David Cooper, 38, from Eskdale Place, appeared at Newton Aycliffe Magistrates' Court on July 17 for offences committed against the Communications Act of 2003 – namely sending nuisance communications. He was committed to prison for 56 days which was suspended for 12 months. He was also ordered to pay a total of £200 to the victims of these offences.
That's it for now. See you next time…
Be good!
Mark J Edwards
Aycliffe NPT Sergeant