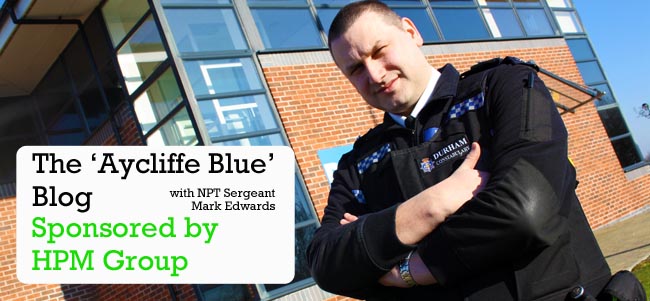 NPT Sergeant Mark Edwards continues his regular blog on Aycliffe Today…
It's been what feels like a long time since my last blog, unfortunately operational requirements resulted in me being abstracted to another department down in Darlington for a short while.
I'm now more or less back in comfortable surroundings and am happy to report that business has carried on as normal in my absence – the team have been busy working away doing what they do best.
So, what other changes has there been?
As you may know PC's Kathryn Pudney and Grace Holohan have now left the NPT and have taken up new roles within the Response Command (that's otherwise known as 24/7 response Policing).
PC Tracy Henderson will be re-joining us in July following a break away from the team for personal reasons, along with PCSO Amy Jorgeson.
Old favourite (PC) Mike Welch is now back working with the team here at Aycliffe – and assisting our Shildon NPT colleagues, fresh from his training.
We have seen a recent spate of thefts of spare wheels and tyres occurring across the town over the past week or so – in particular Transit Vans.
Spare wheels are stored under the vehicles and it is extremely easy and quick for persons to remove them.
All crimes have occurred overnight and the method adopted has been for offenders to simply cut the supporting wire from underneath the vehicle in order for the wheel to drop.
The suspects will then unscrew the hub which secures the wire to the wheel in order to get it away.
Streets that have been subjected to crimes of this nature include Lightfoot Road, Stephenson Way, Bluebell Close, Henderson Road, and Ross Walk.
I encourage owners of such vehicles to be extra vigilant and take whatever extra security measures that are necessary to reduce the likelihood of further crimes occurring.
As a rule you know you're coming to the end of the blog when the court results appear!
Thomas Hodgson, 56, from Bishop Auckland, appeared at Newton Aycliffe Magistrates Court on May 2 charged with a common assault and theft of a mobile phone. He was fined £110, ordered to pay £100 compensation to the victim of both offences, ordered to pay a £15 victim surcharge, and required to pay £50 court costs.
Walter Knight, 55, from Ferryhill appeared at Newton Aycliffe Magistrates Court on May 7 in relation to driving a vehicle on public roads within central Aycliffe without insurance. He was found guilty and fined £600, ordered to pay a £60 victim surcharge, £50 court costs, and his driving licence was endorsed with 6 points.
Lewis Francis Bowmer, 19, from Aycliffe, appeared at the town's Magistrates Court on May 8 charged with several counts of shoplifting. He was found guilty and was sentenced to a community order meaning that he will have to do 60 hours of compulsory unpaid work for the community supervised. Compensation was awarded to his victims by the court – £27 to McColls (Parsons Centre), £48 to Tudhoe Mini Mart, £15.99 to Caygills, and £15.99 to McColls (Oakfield).
That's not quite the end. Turning things on their head a bit…
My team and I are always looking outside of the proverbial box at ways of how we can make a difference to the communities we serve.
Earlier this year we applied to Great Aycliffe and Middridge Partnership (GAMP) for funding to aid with a Community Safety Project. As a result GAMP have donated just short of £5000 to help fund a range of crime reduction measures.
Amongst items purchased to date have been keypad shed alarms and associated warning signage – you may have seen recently on Aycliffe Today that members of the team were out and about in the Burdon Close/Marshall Road area a week or so ago distributing these and other items to local residents.
This was the first of what I intend to be many such activities where we hope to provide reassurance to repeat victims of crime by implementing measures to reduce the chances of them suffering further crimes, and where we go into areas we identify as potentially vulnerable and take a preventative approach. This project would not be possible without the support of GAMP and on behalf of the team I give my sincerest thanks.
Well, I think that's quite a lengthy one so only one thing left to say. You guessed it…
Be good!
Mark J Edwards
Aycliffe NPT Sergeant