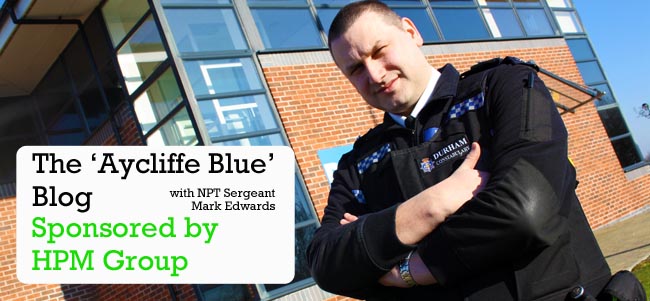 Aycliffe Neighbourhood Police Team Sergeant Mark Edwards continues his regular blog on Aycliffe Today…
Here we go – my next blog. We're already sailing into February, time certainly does fly!
I would like to thank Aycliffe Today for the support provided in assisting my team here at Newton Aycliffe – not only with allowing me to do this blog, but with posting images on the site relating to persons we wish to speak to in order to progress enquiries.
I recently circulated an image of a male we wished to speak to in relation to an assault on an Arriva bus driver in the Shafto Way area of the town that occurred on January 19th this year.
As a result of this appeal I received various replies from residents – some anonymously, providing valuable information which my team and I were able to pursue. As a result the suspect was arrested last Thursday evening and he was charged with the offence and bailed to court.
Ironically the male we sought was riding a bus when he was recognised by someone! We also utilise our social media sites to do the same and I can confirm that this does work.
Last week we had a spate of vehicle crime on Wednesday evening which resulted in the arrests of a 35-year-old male and 30-year-old female.
A grey Volkswagen Golf was broken into whilst parked on the top level of the multi-storey car park sometime after 4.30pm.
A blue Ford Focus was later broken into whilst parked in the British legion car park and attempts were made to break into two other vehicles.
Our thanks go to a determined member of the public whose actions when challenging the suspects led members of the NPT and Officers from the Priority Crime Team onto a trail that took them to the male and female.
Both were charged on Friday have been remanded in custody at this time pending court processes.
This was a successful result that demonstrated the determination and commitment of Officers across a number of teams working together to solve these crimes.
This matter has attracted a lot of debate on the team's Facebook page – I'm not going to dwell on that, but all I'll say is that my team and I have a job to do, tackling crime and criminals is key to that.
The intentions and motivations of my team are righteous in nature – the whole 'name and shame' initiative via Facebook has resulted in much criticism and objection to my Officers, whether we are right or wrong – either way I stand by my beliefs.
As I type this PCs Kathryn Pudney and Grace Holohan have now joined our ranks and PC Pudney has taken over on Greenfields and Middridge working alongside PCSO Scott Hodgson.
PC Holohan has taken over on West alongside PCSO Laycock. All are coming to speed with issues on their 'patches' and are brimming with enthusiasm.
I can now report that PCSO Mike Welch has now left the team to begin his training however he will return to the team here in Aycliffe as a Police Constable. It seems we can't get rid of him!! Joke!
I will be taking a leave of absence for several weeks however Pc Paul Rogers will be taking the helm while I'm away. I'm confident that 'the ship' will be in safe hands.
It wouldn't be my blog without a few court results so let's see:-
John Robert Whitfield, 64, from the Bishop Auckland area, appeared at Newton Aycliffe Magistrates Court charged with drink driving. He was fined £250, ordered to pay £85 costs to the Crown Prosecution Service, and banned from driving for 12 months.
Reece Ian Keith Gowing, 18, from Newton Aycliffe, appeared at the town's Magistrates Court charged with two counts of assault. He was committed to detention for eight weeks, suspended for 12 months, and ordered to pay £100 compensation to the victim.
Lewis William Raymond McCormick, 20, from Aycliffe, also appeared at the Magistrates Court jointly charged with Gowing for one of the assaults. He was also found guilty and made subject of a community order where he must carry out 150 hours of unpaid work within the next 12 months. He was ordered to pay £250 compensation to the victim and £85 costs to the CPS.
That's it for now. I'll check in again on my return. In the meantime…
Be good!
Mark J Edwards
Aycliffe NPT Sergeant