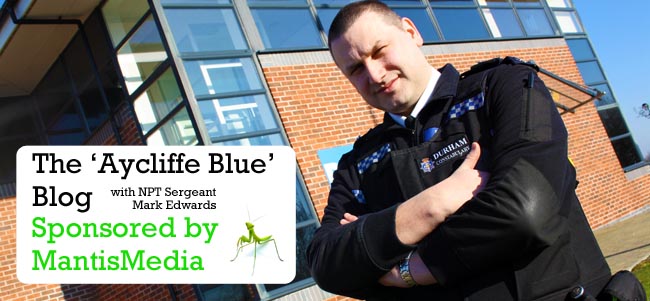 Aycliffe NPT Sergeant Mark Edwards continues his regular blog on Aycliffe Today…
As I type this we're less than a day away from the big day itself – no, not the apocalypse (that was allegedly last Friday according to the Mayan calendar!), Christmas Day.
I am one of the fortunate ones this year who gets to enjoy the day with family whilst some of my less fortunate colleagues will be working the snowy streets of Aycliffe (yes, I jest!).
So, what's new on the team?
PC Paul Rogers returns to us at the start of the New Year. He joined our ranks back in April time but left us shortly afterwards on secondment elsewhere. Paul retakes the helm on Shafto St. Mary's along with Scott Hodgson.
PC Matt Stasiak is leaving us sometime in January we anticipate along with PCSO Mike Welch who is off to join the regulars. Matt will be replaced by PC Kathryn Pudney who has been with the team throughout November and December undergoing initial training.
I'm sure many of you out there will be aware of the high profile 'iPad scam' in which a 36-year-old female from the town was remanded in custody last Friday after allegedly taking payment for a large number of iPads which she failed to deliver on. Members of the team put in some very long hours working alongside the Serious Crime Team from an incident room that had been set up at Bishop Auckland.
Moving onto some festive results now…
Tammy Newton, 18, from Aycliffe, appeared at Newton Aycliffe Magistrates Court on 19th December and was convicted of burglary at an address of Skipton Close in October and for possessing a bladed object in a public place. She was given a community order and was also made to pay £40 costs.
Liam Michael Gibbon, 20, from Aycliffe, appeared at the same court 18th December and was convicted of causing criminal damage to a Vauxhall Astra car. He was ordered to pay £400 compensation to the victim. He was also made subject of a restraining order, prohibiting him from contacting the victim, and ordered to pay £50 costs to the CPS.
For now, all that's left for me to say is…Happy Christmas! Be safe…and, of course, be good!