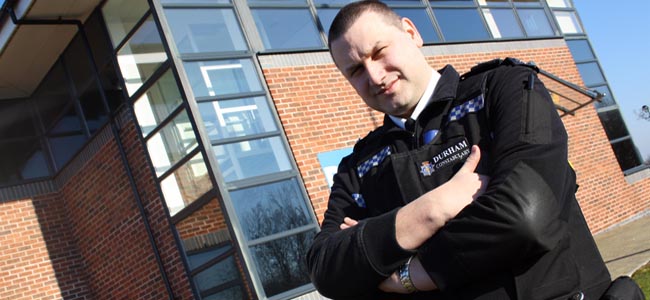 Aycliffe NPT Sergeant Mark Edwards continues his regular blog on Aycliffe Today…
Hello again,
It seems like a lifetime since my last blog – unfortunately, with the best will in the world, operational commitments often interrupt well-meant intentions. It's just as well I didn't end my last blog on a cliff-hanger…
So, what's new?
There have been a few changes to the make-up of the team here at Aycliffe. We have a couple of new recruits that have joined our "ranks".
PC Helen Moiser commenced an attachment with us as of last weekend taking over the Shafto St Mary's beat in the absence of PC Paul Rogers, who is temporarily seconded elsewhere.
She joins PCSO Scott Hodgson and we expect Helen to be with us until the end of the year.
One of the Force's new recruits, PC Kathryn Pudney, also joined us last Monday for an initial five-week mentor period. She will join us a fully fledged member as of January 2013 and will be taking over on Woodham Ward along with PCSO's Chris Noble and Amy Jorgeson.
PC Matt Stasiak will be leaving the team at the end of the year for a new posting in another area so we wish him well. For the time being Matt continues to work alongside us, predominantly on Greenfields and Middridge.
PCSO Mike Welch is also leaving the team in February 2013 to become a regular. Early expectations are that he will rejoin us in the middle of 2013 as a Police Constable.
As for the rest of the team, PC Alan Thompson continues to remain dedicated to Aycliffe Village, Neville and Simpasture, along with PCSO Richard Scott.
PCSO Gavin Laycock continues to look after West Ward and in January he will be joined by PC Grace Holohan, another new recruit who is currently working out of Shildon.
So in a nutshell, that's the Aycliffe NPT and where we are at the moment. It's a bit top heavy but gives a flavour of who we are and who covers your area of the town.
The new Police and Crime Commissioner for County Durham and Darlington is Mr Ron Hogg, as you may now know. A big welcome to Mr Hogg.
We continually try to recruit new households and co-ordinators for our Neighbourhood Watch scheme. Essentially NHW are our eyes and ears.
During the last week of October a further 198 households in Aycliffe and 15 co-ordinators were recruited.
If you wish to find out more about the scheme and its' benefits then please contact Neil Langthorne, our Community Liaison Officer, based at Spennymoor Police Station.
I would like to offer comment on concerns that we are aware of circulating around Aycliffe and revolving around an Akita dog that is reportedly running wild attacking other dogs.
I can confirm that we did receive such a report several weeks ago. However, I want to highlight that the recent incident that occurred in the Stag Lane area of Woodham on Bonfire Night did not concern an Akita and, whilst a nasty incident in itself, was totally unrelated to the earlier job and has been addressed by the team. This investigation is still active with enquiries ongoing so, at this time, I cannot go into any specifics.
Myself and a couple of members of the team travelled up into Northumbria Police's Force area last week during our investigations into a fraud offence committed at Tesco. As a result, a 46-year-old male from the Newbiggin area was questioned in relation to that crime and was charged with the offence. He will be appearing at court in the near future.
If we are investigating a crime we will not be deterred by distance. Whilst our suspect on this occasion was only located in Newcastle we will travel further afield if need be!
Quite a lengthy blog this time around so I will leave it there for now.
Mark J Edwards
Aycliffe NPT Sergeant