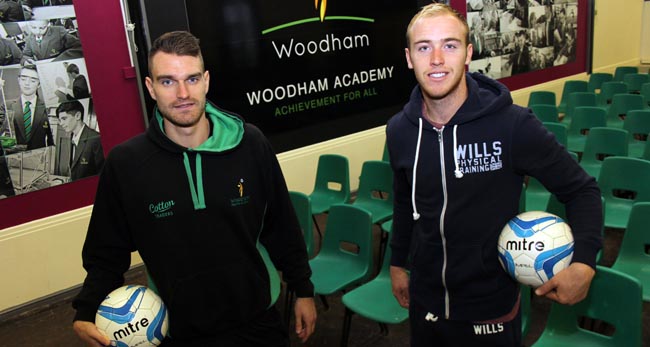 Boro goalkeeper Jason Steele is gunning for cup glory of a different kind this season.
The 23-year-old Newtonian goes into his third season as manager of Sunday morning pub side Newton Aycliffe Working Men's Club.
Steele has this season teamed up with his former school, Woodham Academy, which is now providing the venue for his team's home fixtures.
They will entertain Winlaton Commercial in the first round of the FA Carlsberg Sunday Cup – the All England Cup – at Newton Aycliffe FC's Moore Lane Park this Sunday (2pm) as Steele's men hope to do well in a number of competitions this season.
"We're doing quite well in the cups this year and it'd be nice to go all the way in at least one of them," said Steele, pictured with Woodham Sports Academy director Liam Clough, who also stars for the Durham and District Sunday side.
"We've won a few cup games already and we're the only side from Newton Aycliffe left in the County Cup – we play Stillington Royal at home in the first round proper on November 3.
"I still love being involved as much as I can on a Sunday, when time permits, and we're hopeful of picking up some silverware this season."
Ironically, Aycliffe Club beat Winlaton in the first round of the All England Cup last season – the club's first-ever match in the FA Cup of Sunday morning football.
● They play them again this Sunday (October 20), 2pm kick-off at Moore Lane Park.