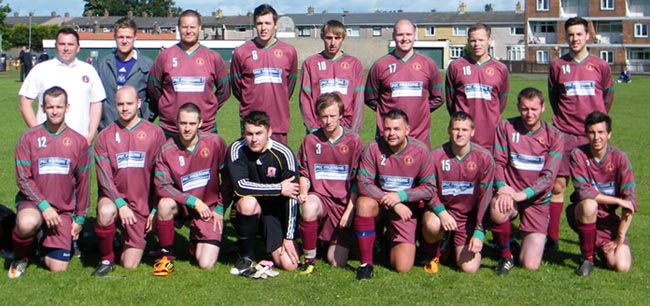 Newton Aycliffe Sports Club (NASC) FC has been founded this year and will compete in the Darlington Sunday Invitational League (2nd Division) for the 2013-14 season, with home games being played at Moore Lane Park.
Managed by Paul Eales, the squad consists of 31 players all aiming to cement a regular start in the team each week.
Pre-Season friendlies has seen a mixture of results whilst the team has looked to gel, playing 10 in total, winning five, losing four and drawing one.
NASCFC is sponsored by PEC Packaging.  Based in Liverpool, PEC have recently opened a site on Aycliffe Business Park and offered to sponsor the newly-formed team.
This led to arranging a home and away fixture to compete for an Annual Friendly Shield.  The first leg, played in Liverpool was drawn 2-2, with the 2nd leg played at Moore Lane Park on Saturday 17th August, which NASC FC won 3-1, taking hold of the shield in its first year.  It is planned to hold the competition each season.
Sunday 18th August, saw the first league of the season for NASCFC and it was a derby game against local rival British Legion FC.
Although there were some tired legs from the previous days game, NASCFC started brightly enough holding and passing the ball well.   An injury to key midfielder Gareth Boyes after just 10 minutes, saw Paul Cook take his place and made an immediate impact by scoring the resulting free kick with his first touch.
Paul Cook then set up the 2nd goal with a neatly threaded through ball to Damien Jose continuing his early good pre-season form, getting his first goal of the season.
Paul Cook got himself on the score sheet again a few minutes later for the 3rd goal of the game and the half was finished off with a fourth goal by Chris Jones.  Half Time Legion 0-4 NASCFC.
British Legion came out for the second half a lot more resilient and it took 25 minutes before any more goals were scored.
Damien Jose notched his 2nd of the game which then allowed the Sports Club to open up the game again push on for more.
Chris Jones went on to score his 2nd and 3rd goals in quick succession and not content with just a hatrick finished off the game with a fourth.  Result Legion 0-8 NASC FC.
Team:  Stephen Richardson, Jonathan Clegg, David Hall (Capt), Mark Craggs, Anthony Campbell, Tom Watson, Matty Alder, Gareth Boyes, Connor Hughes (MOM), Chris Jones, Damien Jose. Subs Used: Jon Hughes, Paul Cook and Adam Gittins
Upcoming Fixtures: 22/8 Green Dragon (A), 25/8 Wheatsheaf (H), 1/9 British Legion (H).
Newton Aycliffe Sports Club FC – 2013/14 Season. Pictured Back Row: left to right: Paul Eales (Manager), Michael Burns, Carl Little, Connor Hughes, Chris Jones, Mark Craggs, Jon Hughes, Tom Watson. Front Row – left to right : Anthony Campbell, Jonathan Clegg, Damien Jose, Stephen Richardson, Matty Alder, David Hall (Capt), Adam Gittins, Gareth Boyes, Paul Cook.