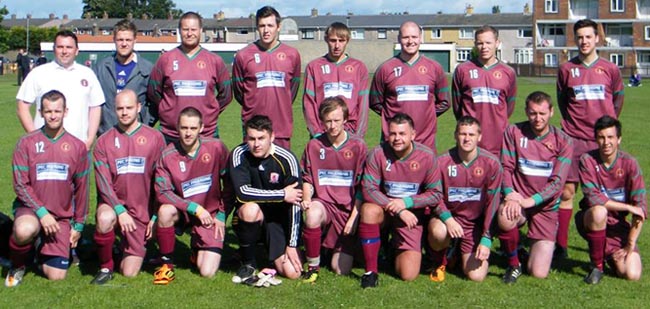 Aycliffe Sports Club 5, Green Dragon 2
By Paul Eales
After last week's disappointing result to Spraire Lads, Aycliffe Sports Club faced a return fixture against bottom side Green Dragon, who they had beaten convincingly 11-0 in the away tie at the start of the season.
The game started very brightly with the home side looking for a repeat of the early season clash.  A good move down the right hand side saw Chris Jones latch onto a through ball and slotted home the first goal of the game on 5 minutes.
It took just another 5 minutes however for the visitors to equalise and shock the home team.  A second goal soon followed for Green Dragon after a loose ball was left waiting in the box and with the defenders slow to clear, the visitors took the lead on 15 minutes and went into the break surprisingly in front.
A harsh team talk and a bit of soul searching gave the home side the incentive to get back into the game for the second half.  On 55 minutes, a through ball from midfielder Gareth Boyes again found the hard working Jones who raced through for his second goal of the game.  Chase McMullen then hit a rocket of a shot on the hour mark to make it 3-2 as the home side began to dominate.
Chris Jones completed his Hatrick on 70 minutes with a header from a cross from the hard working Jonathan Clegg on the right.  It was Clegg who rounded off the scoring, with an equally spectacular strike, to match McMullen's effort earlier to make it 5-2 and maintain the 100% record at home.
Next up is an away tie to The Wheatsheaf – which should prove to be very competitive games as both sides lie on 19pts in the division – albeit Aycliffe have 4 games in hand which they hope to now make count.
Team: Chris Palmer, Jonathan Clegg, Mark Craggs, David Hall (Capt),  Matty Alder,  David Teder, Jon Hughes, Gareth Boyes, Ryan Stonehouse, Chris Jones, Chase McMullen.  Subs (used): Jaimie Hindle, Damien Jose (Both Used)
Goals: Chris Jones(3), Chase McMullen, Jonathan Clegg
MoM: Chase McMullen