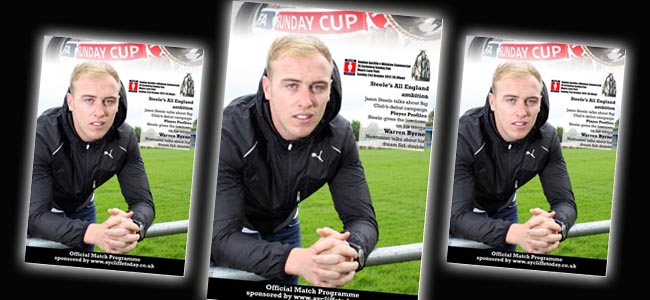 By Martin Walker
A FREE souvenir programme has been produced for Newton Aycliffe WMC's All England Cup game on Sunday.
Boro goalkeeper and Newtonian Jason Steele will see his Big Club side take on Winlaton Commercial in the first round of the FA Carlsberg Sunday Cup tomorrow (10.30am kick-off) – it's Aycliffe Club's first-ever game in the competition.
Admission is just £2 each, which includes an exclusive souvenir programme which has been specially produced by www.aycliffetoday.co.uk, in association with Mantis Media.
The free programme includes a lowdown of witty pen-pics provided by Steele himself, as well as a history of the Sunday Cup provided by NAFC historian Paul McGeary.
Warren Byrne also talks about his dream double in last season's FA Sunday Cup Final at Sunderland's Stadium of Light.
● Aycliffe WMC entertain Winlaton Commercial in the FA Carlsberg Sunday Cup at Newton Aycliffe FC's Moore Lane Park on Sunday 21st October (10.30am kick-off), with admission £2 for all. Address: DL5 5AG.