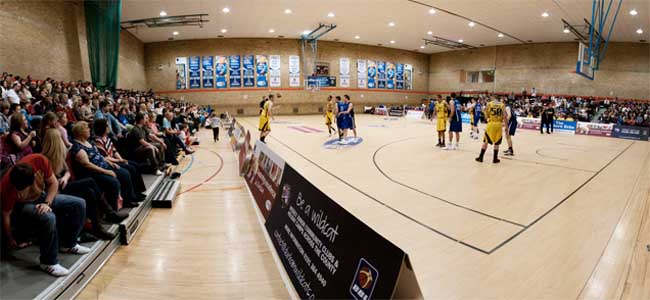 By Ryan Gillham
Durham Wildcats' 88-73 defeat by Sheffield Sharks at Newton Aycliffe Leisure Centre stretched their winless run in the BBL to five games.
Sheffield Sharks took the early advantage and gained a 6-13 lead as the Wildcats found it hard to get running.
Despite Sheffield's guard Andrew Bridges forcing an unsportsmanlike foul on Baldarelli, Durham still couldn't find their feet. It was Ralph Bucci's introduction to the game that got the Wildcats going. Bucci made an early impact, converting a 3 point play from a steal, to bring the score within nine. The scoreline did not look any better for the home side as the quarter came to a close with the Sharks boasting a 10 point lead at 13-23.
The shots started to drain for the Wildcats with Mike Baldarelli finding his range to begin the second quarter when he scored two early three-pointers and Paul Elderkin joined in on the act by securing his first points of the game to bring the score back to within single figures at 25-30. But Sheffield kept the Wildcats at bay for the rest of the quarter and opened up a 34-44 lead at half-time.
It was a positive start to the third for the Wildcats with Paul Elderkin making the early fade away jump shot and a Brad Guinane three-pointer brought the score to within seven of their visitors at 41-48 but Durham's run was short lived as the Sharks doubled their lead to end the third period 50-64.
The final stanza began with both sides trading baskets in the early stages as the Wildcats stepped up the intensity and brought the scoreline down to within eight points at 62-70.
Sheffield kept the Wildcats at an arms-length for majority of the fourth despite Durham's efforts to get back into the game. The home side piled on the pressure in the final minutes but foul trouble was to be an issue for the Wildcats as the Sharks saw the remainder of the game out to win by a comfortable 15-point margin.
M.V.P – Mike Baldarelli; 21 points, 6 rebounds and 4 assists. Kept Durham in contention for large parts of the game before the Sharks finished strong to claim the win.
Durham Wildcats; Mike Baldarelli 21 points, Ralph Bucci 16 points, Andrew Keister 10 points.
Sheffield Sharks; Michael Tuck 27 points, BJ Holmes 16 points, Nick Lewis 16 points.