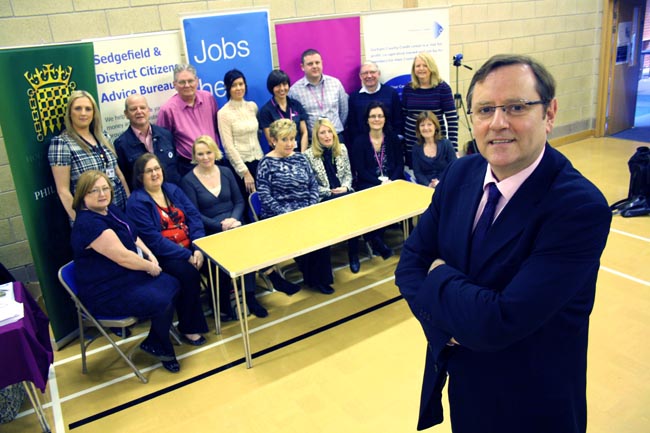 By Martin Walker
Poverty levels in County Durham are hitting worrying new levels, according to a leading Citizens Advice Bureau figure.
Pauline Chambers, chief executive of Sedgefield and District CAB, says she's seeing levels of hardship not seen in 21 years.
Mrs Chambers, speaking at MP Phil Wilson's welfare surgery in Newton Aycliffe last Saturday, has issued a stark warning that things will only get worse.
She says:
• CAB telephone enquiries have increased by 100% in the last two months
• Requests for help expected to further increase
• People are struggling to pay for basic food and utilities
• Poverty levels are on the up
CLICK HERE TO SEE OUR SPECIAL VIDEO FEATURE
Mr Wilson, the Labour MP for Sedgefield, pulled together a number of agencies to help local people in his Constituency to cope with more hard-hitting welfare reform cuts due in April.
Around 50 people sought advice from social housing provider livin, Durham County Council's Welfare Rights Service, Job Centre Plus, the Durham County Credit Union and CAB at Aycliffe Youth Centre last weekend Saturday.
Mrs Chambers says the surgeries have been useful for them to engage with people who are struggling.
In a Video Interview with Aycliffe Today, she said: "We're being inundated with more and more enquiries and it's becoming increasingly difficult to cope with that demand.
"As a result of that we're more than happy to come along to these surgeries to engage with clients and for our staff to answer any queries they may have.
"It's a very worrying time for people. Welfare Reform in general is causing a lot of concern. The increase in client numbers for us is steadily rising already and we expect to see that rise even more.
"We've seen an increase in the number of telephone enquiries by 100% in the last two months alone and I think that's just the start.
"We're also receiving enquiries from some clients having difficulties with an inability to just pay for the basics, such as food and utilities.
"Some of them have asked us for food vouchers, and I've never seen that in the 21 years I've worked for the service.
"So we know that poverty levels are increasing, and this type of event is something CAB really needs to help to engage with people."