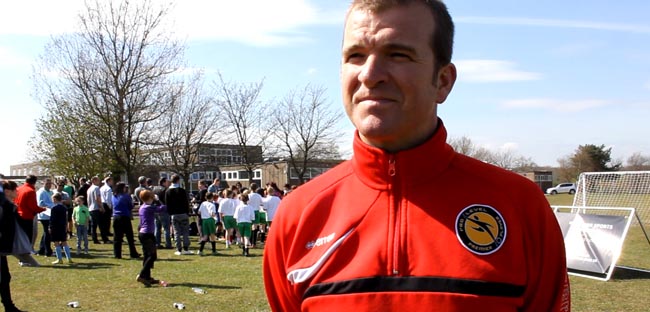 By Martin Walker
Darlington legend Neil Maddison has told Aycliffe Today how he's delighted for his former club after they were crowned Northern League champions this week.
The 43-year-old former Middlesbrough and Southampton midfielder spent six years with his hometown club before a number of years on the coaching staff, including two stints as caretaker boss at the Arena.
We caught up with Maddison and ex-Darlo goalkeeper Andy Collett at Woodham Academy today (Thursday) when they'd organised a hugely-successful football tournament for Aycliffe primary schools, as part of their role in Woodham's Soccer Academy.
Maddo took time out to congratulate Darlington on winning the Northern League at the first attempt.
"It's so pleasing," he said. "We all want to see Darlington get back into the Football League. They've got a long way to go, but they've climbed that first step.
"They've done really well, they've won the Northern League, now the next step is to win the next league up and see how far they can go.
"The support has been fantastic. Getting 1,500 to games, there was 2,000 there last night, and I'm thoroughly delighted for them.
"I just hope they can keep it going, keep progressing and keep climbing the leagues."
We'll bring you more on today's tournament, which was also attended by Boro goalkeeper Jason Steele, later.
Click here to see our Video clip with Maddison