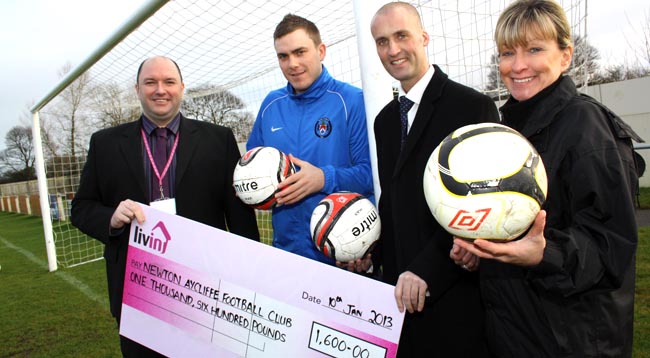 By Martin Walker
Housing association livin has donated cash to Newton Aycliffe FC to enable the club to do more in the community.
The £1,600 grant from livin's Communities Fund will be invested in training equipment that will also be made available for youngsters on the town.
Links between the Newtonians and junior football in Aycliffe will be improved thanks to the money, with Newton Aycliffe Youth Centre FC able to make use of the equipment.
Extra training will be available for the kids in the town and aspiring footballers will be given the chance to take part in special sessions that will be run by volunteers from the club.
In a Video Interview with Aycliffe Today, NAFC's general manager Dan Lewis said: "We're trying to increase our links into the community and we're looking to partner with the Youth Centre junior club to give us more of a presence in the community so there's a huge fan base out there for us.
"This money will help us get out there and deliver sessions into the community and people will get to know a bit more about us and where we are, so it's a massive help to us and we're really grateful to livin.
"We can't function without this sort of support so we're hugely grateful to all our sponsors.
"We're always on the look-out for more because the bigger the budget we have, the more successful we'll be on the pitch."
Malcolm Gray, Improving Community Co-ordinator for livin, told us: "It's livin's vision to become part of the community and to try and support community groups and projects that make a difference.
"Newton Aycliffe FC has been around for about 40 years, it encourages a lot of people from the area to come and try football and we're very pleased to be included in what they're doing here.
"We have a social responsibility and we must help people that need help, give projects the support they need to continue and try to build stronger communities, safer communities and sustainable communities, because that's very important to us."
The Northern League first division club will purchase new tracksuits, which the first team players will wear for public appearances such as awards nights at local clubs, as well as modern training equipment.
The livin Communities Fund provides grants that make a genuine difference to the lives of local people. For more details go to www.livin.co.uk
Any firms or organisations who'd like to support Newton Aycliffe FC can contact their sponsorship manager Barry Waters on 07864 718243 or [email protected]
Go to our Video Vault to see our feature about this.
● Pictured above (L-R) is livin Improving Community Co-ordinator Malcolm Gray, Aycliffe player Scott Pocklington, general manager Dan Lewis and livin Community Co-ordinator Allison Lonsdale.