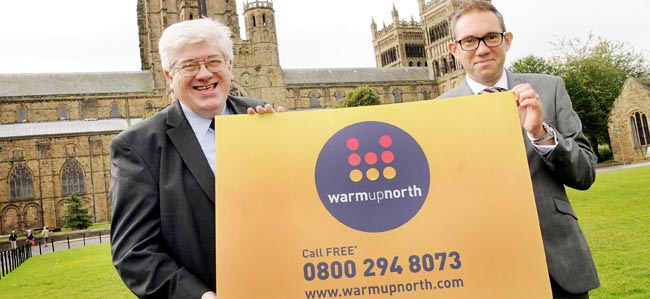 Up to 50,000 households in the North East will benefit from warmer homes and lower bills thanks to the UK's largest energy efficiency project.
The £200m scheme, launched by British Gas and nine North East local authorities (including Durham) will create 75 direct job opportunities regionally, as well as creating up to 500 further jobs in the local supply chain.
Based in Newcastle, the 75 strong Warm Up North team will tackle fuel poverty, and will help to lower energy bills and make keeping warm more affordable for thousands of North East homes and businesses. Local small to medium-sized companies will be identified as contractors to complete the installation work.
Eligible residents could benefit from free measures that could be installed in their homes making them more efficient and reducing their energy consumption. Measures could include hard to treat cavity wall, solid wall and loft insulation, new 'A-rated' boilers, and boiler repairs.
The North East is the first region in the country to benefit from a scheme of this scale, as Warm Up North is the largest and most advanced regional response to the Government's Green Deal and Energy Company Obligation (ECO).
The ground-breaking initiative will cover private and rented homes, and social housing as well as extending to publicly owned buildings, including offices, health and educational properties.
The Warm Up North partnership comprises of nine local authorities: Darlington, Durham, Gateshead, Hartlepool, Newcastle, Northumberland, Redcar and Cleveland, South Tyneside and Sunderland and is supported by the Association of North East Councils (ANEC).
Jon Kershaw, head of Warm Up North (pictured above, right), said: "We are committed to helping those most in need across the North East heat their homes for less; a lot of people who are struggling to heat their homes may not even realise the difference that making small changes can make, for example, just insulating a loft could save up to £145 a year on heating bills.
"We are also helping to create high quality new jobs throughout the region providing apprenticeships, training and skills opportunities, focusing especially on helping long-term unemployed and young people not in education, employment or training (NEETs)."
Cllr Neil Foster (also pictured), cabinet member for economic regeneration at Durham County Council, added: "We are delighted to be part of this ground-breaking regional partnership which will not only benefit thousands of householders but will also bring significant investment and jobs to the North East.
"The Warm Up North scheme will help families by making their homes warmer and cheaper to heat and it will reduce fuel poverty and the impact this can have on people's health.
"Through the scheme householders on lower incomes and those in 'hard to treat' properties – such as those without wall cavities – will receive help to make their homes more energy efficient.
"In County Durham we have already seen how this kind of scheme can benefit residents following successful projects in Craghead and Easington Colliery to improve homes through measures such as the installation of external solid wall insulation and energy efficient heating."
To find out more about how Warm Up North could help make your home more energy efficient call the team on 0800 294 8073 or visit www.warmupnorth.com
Local businesses who are interested in finding out more about the opportunities available working for British Gas on the Warm Up North scheme can attend a 'Meet the Buyer' event being held locally. To find out more visit www.warmupnorth.com