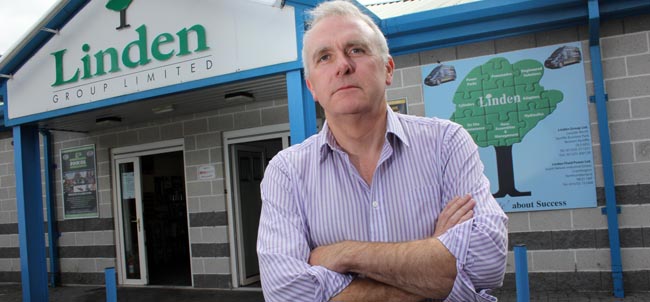 A Newton Aycliffe hydraulic hose company has been rescued by one of its national competitors, with a number of jobs being saved.
Linden Group, based on Aycliffe Business Park, was hours away from being wound up before national firm Hydraquip stepped in.
The Aycliffe firm, which began as a family-run company in 1981 and employed 40 people up until a month ago, found itself in serious financial difficulties.
A number of staff had already been made redundant, while its remaining 26 were facing the prospect of looking for new employment.
But Hydraquip, which is a national company and has 10 locations across the country, formed a rescue package which has safeguarded its remaining 26 posts.
And it is now looking to re-employ people to boost its workforce.
Director Fintan Ennis says the new firm, called Linden Hose and Adaptors Ltd, will retain 100 per cent of its employees, and is actively looking to recruit up to five experienced mobile hose engineers to strengthen the team in the area.
Mr Ennis said: "It's positive news that we're able to safeguard people's jobs and we're pleased about that, but we're very well aware that the previous company has worked with local businesses for a lot of years, and there's a lot of work that needs to be done to repair some of the damage that's been done.
"But it is quite literally business as usual. It's the same building, the same faces running the company, the same contact numbers.
"We want our customers and clients to know we're back up to full speed and it's all systems go."
Linden has developed into a nationally-recognised supplier of hydraulic components and services, providing full service distributors of a broad range of hose and fittings, adaptors, pumps, motors, valves cylinders and equipment for hose preparation.
Its customer base is as wide ranging as the components it is able to supply, from local farmers at our trade counter, through to the many regional SMEs and up to large complex multinationals such as Nissan and Terex.
Hydraquip managing director Duncan MacBain added: "I know Linden is an established name in this area and, in fact, was one of our major competitors, so it came as much as a surprise to us to hear of its financial problems, but that is perhaps a grim reality of the current climate.
"But from our point of view, the addition of Linden to our group of companies will additional strength to Hydraquip's position as a market leader in the hose industry, and will also bring the additional benefits of the Hydraquip Group to Linden's customer base. One of the key factors in our decision to proceed was the skill and in depth knowledge of the work force, as well as the attitude they displayed in the face of adversity.
"From previous acquisitions, we have always acted positively in any rescue packages they put forward and in keeping with a long-standing company ethos in believing that strategic to any successful branch is the key personnel.
"We've worked hard to retain members of staff allowing the new company to continue to provide an excellent service to customers."