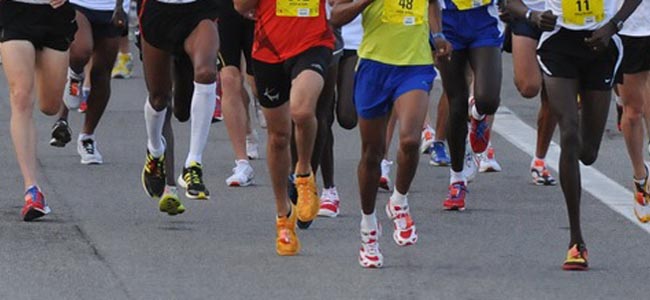 An Ethiopian asylum-seeker won the Newton Aycliffe 10K at the weekend after running nearly half of the course with only one shoe.
Paralympian Wondiye Fikre Indelbu had to kick off a shoe after 6k after it worked loose and was unable to re-tie his lace as he only has one hand.
But the 25-year-old Middlesbrough-based runner still managed to race clear, winning Sunday's race by a clear 100 metres.
Indelbu, who lost an eye and the lower part of his right arm in a hand-grenade attack on his home in Ethiopia when he was nine years old, suffered blisters as he kept running hard to beat two former race winners.
The African, who was third in the Middlesbrough College Riverside 5K earlier this month, won the £100 first prize in a time of 32 mins 18 secs, beating 2010 winner Jim Bulman (New Marske) by 31 seconds, with Durham City Harrier James Askew, winner of the previous two races, a further 22 seconds behind in third place.
The women's race was won by Richmond and Zetland Harrier Shona Fletcher in 38 mins 29 secs, over two minutes clear of New Marske veteran Sharon Bulman in second place.
RESULTS
Men: 1 W Indelbu (Unatt) 32 mins 18 secs; 2 J Bulman (New Marske M40) 32.49; 3 J Askew (Durham City) 33.11; 4 J Clifford (New Marske M40) 33.54; 5 P Flacon (Team Nebraska) 33.57; 6 P Bentley (North York Moors) 33.58; 7 B McMillan (Jarrow & Hebburn) 35.08; 8 T Learoyd (New Marske) 35.18; 9 D Newton (Quakers) 35.59; 10 P Duffy (Heaton) 36.17. M50 G Arthur (South Shields) 38.01; M60 I Bloomfield (Chester-le-Street) 38.19.
Women: 1 S Fletcher (Richmond & Zetland) 38.29; 2 S Bulman (New Marske W35) 40.41; 3 B Caygill (Darlington W35) 41.02; 4 J Keavney (Swaledale W45) 41.18; 5 K Scott (Houghton) 41.54. W55 P Quinn (Sedgefield) 50.11.