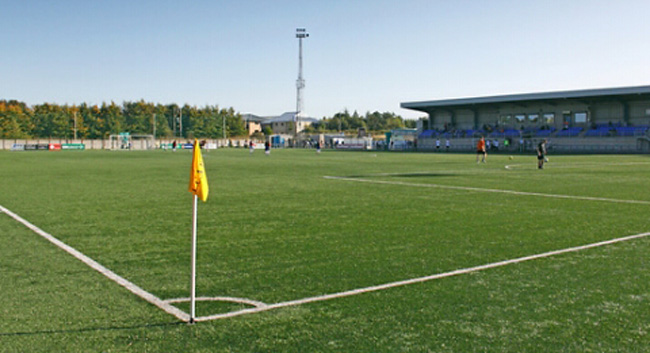 Paul McGeary reports from New Ferens Park
Ten-man Newton Aycliffe lost their first game of the season when they were thumped by Durham City this afternoon.
Aycliffe, who had led the Ebac Northern League first division after winning their first two games, were thrashed 4-1 by unbeaten Durham at New Ferens Park.
Two goals in each half bagged an easy three points for City as the visitors saw forward Danny Lambert sent off just before the hour-mark to complete a miserable afternoon for the Newtonians.
It's Aycliffe's first defeat of the season after they won their first two – against Penrith and Billingham Synthonia – before drawing 1-1 at home to Morpeth on Wednesday night.
But boss Allan Oliver will hope this crushing defeat will be just a blip as Aycliffe look to enjoy their third campaign in the Northern League top flight.
Durham pressured early on when, in the third minute, Paul Dixon found space at the back post as Aycliffe failed to clear, but his shot hit the side netting at the second attempt following Dan Mitton's block.
Dixon went close again in the eighth minute and ex-Newtonian Josh Gray shot from range two minutes later, with his deflected effort going over.
Stephen Salvin was penalised for handball in the box after 13 minutes, but a fine save from Dan Molyneux denied Olly Hotchkiss from the spot.
But Molyneux turned hero to zero within seconds when he failed to Denver Morris' long-range shot that crept into the corner as Durham took the lead.
Aycliffe's first show came in the 18th minute, but Jamie Owens' free-kick curled wide with the 'keeper unperturbed.
And City doubled their lead shortly after the half-hour mark when Matty Scott's left-sided cross was volleyed home by Ian Ward.
Danny Earl had the ball in the net in the 38th minute, but his fine effort was ruled out for off-side, and the striker was booked for protesting.
Aycliffe began the second half in positive fashion when Lambert's cross was narrowly volleyed over by Owen, who showed great technique.
But Durham bagged their third just two minutes later, with Ward netting his second following a right-sided corner.
Skipper John Close, making his 100th league start for Aycliffe, went close to pulling one back in the 49th minute but his header from Lambert's corner was hooked off the line by Stephen Harrison.
Aycliffe went close again in the 55th minute when Jamie Owens' deft effort with the outside of his boot is turned on to the post by 'keeper Rhys Jobling.
But a bad day turned worse three minutes later when Lambert was red-carded for swearing at the referee after giving away a seemingly soft foul.
The visitors eventually pulled one back in the 64th minute. Owens played a fine threaded ball round the back, and Earl finished low under Jobling.
Durham made it four in the 82nd minute and in some style. Sub Scott Fenwick bamboozled Aycliffe sub Steve Gibson before firing left-footed into the top corner.
Team: Molyneux; Mitton (S. Gibson), Oldfield, Salvin, Close; Lambert, Owen, Selby (Young), Woodhouse; Earl, Owens (Broom). Unused: M. Gibson, Farley.