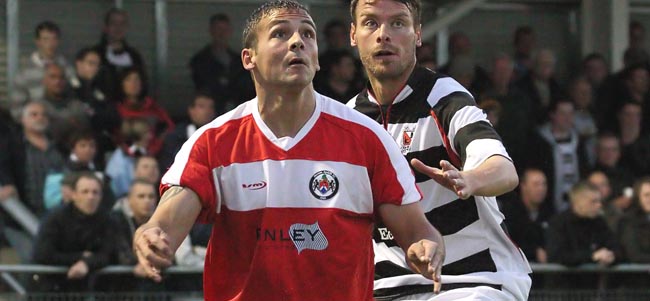 By Glen Robertson
Newton Aycliffe were knocked out of the Brooks Mileson League Cup after a 7-2 defeat at Consett.
Consett front men Michael Mackay and Luke Sullivan shared seven goals between them as Aycliffe conceded five in the last 25 minutes.
The game had looked tight before, with Daniel Earl (pictured) and Nathan Wilson's penalty seeing the Newtonians on level terms after Mackay's first-half double.
But the floodgates opened as the game neared its end as Aycliffe were heavily beaten and dumped out of the competition at the first hurdle.
Allan Oliver was without captain Sean Tarling, defender Darren Craddock and goalkeeper Scott Pocklington, as well as injured trio John Close, Tom Hinchley and Kris Hughes.
David Moffat made his debut in goal, with Danny Lambert making his first start on the right, Danny Lockwood partnered Daniel Earl in attack while Nathan Wilson and Martin Young started in the middle with Josh Knox alongside Mark Peck in defence.
Aycliffe were behind after just five minutes. Knox mis-timed his clearance and serial goalscorer Mackay was left with a simple one-on-one, which he rarely misses.
The visitors thought they'd replied four minutes later, but the linesman's flag denied Matthew Coad a first goal for the club.
It took until the 26th minute for Aycliffe to get a deserved equaliser. Lambert's cutback was inadvertently sent towards his own goal by Calvin Smith and Earl poked home from two yards out.
Controversy reigned five minutes later as Consett went ahead from the penalty spot. The hosts had a free-kick and Peck appeared to cleanly win his header against Sullivan and there were no protests from the Consett players as the referee played on, but the linesman waved his flag after seeing an infringement.
Undeterred by the protests swirling around him, Mackay calmly fired home to put his side back in the lead.
But Aycliffe went in at the break level after a penalty of their own. Young sent a lovely ball through to Lambert, whose effort was well saved by Christopher Elliott, but the goalkeeper fouled Lambert from the rebound. Wilson stepped up to take the penalty and sent Elliott the wrong way.
Neither side could have been said to have dominated up to the 65th minute, but the game suddenly turned in Consett's favour. As the visitors were still reshuffling after a double substitution, Consett fired a free-kick into Aycliffe territory and in the ensuing scramble, Sullivan slotted home for his first of a second half quadruple.
His second came 10 minutes later as Jack Stanger's right-wing free-kick was forced home by the striker from on the goal line.
Aycliffe went for a way backing the game, forcing five corners in succession, but from the last delivery the hosts broke with pace and Sullivan was left with a simple tap-in for his hat-trick.
Mackay then got his treble with a deft lob over Moffat from the edge of the area after another counter and Sullivan wrapped up the game by tapping in from a yard after Moffat spilled Stanger's cross.
Newton Aycliffe: Moffat, Oliver (Winskill 65), Owen, Knox, Peck, Young, Lambert (Broom 54), Wilson, Earl, Lockwood (Mellanby 65), Coad. Subs not used: Butterworth, Woodhouse.