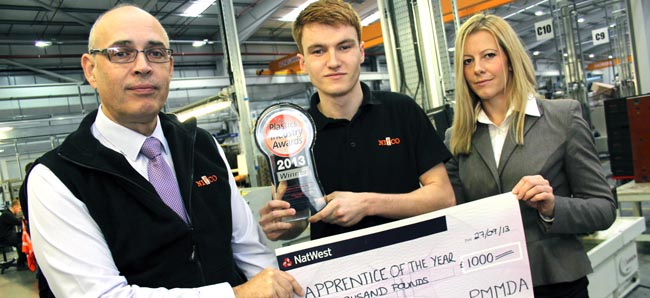 By Martin Walker
An Apprentice who learned his trade in Newton Aycliffe has scooped a national award at a ceremony to celebrate success and innovation in the plastics industry.
Joshua Appleyard is employed as a toolmaking apprentice at Teesside plastic injection-moulding company Nifco and trained at SW Durham Training (SWDT) on Aycliffe Business Park.
He was nominated by his employer, after he impressed his managers, who are keen to promote the need to back fresh talent across the region.
Joshua, from Darlington, was named Apprentice of the Year at The Plastic Industry Awards, an event designed to reward innovation and exceptional performance of companies and people operating in the sector.
Kate Chapman, business development manager for SWDT, said: "Joshua is such a hardworking young man, and a real example to young people considering an apprenticeship as a route to enter the industry.
"To receive national recognition really is a fantastic achievement and we're proud to have played a part in his success.
"Nifco is a phenomenally successful business, and the fact that it is flying the flag for apprenticeships by taking on young people like Joshua really does go to prove that it is not only a viable – but a valuable – way of plugging skills gaps."
Mike Matthews, managing director at Nifco UK and European operations officer, said: "We are delighted that Joshua is achieving the level of academic and skills development required to be an effective toolmaker.
"Joshua goes above the call of duty, shows high levels of initiative in his day-to-day duties and sets out a clear message across the business that apprenticeships really do work – his fresh thinking and 'can-do' attitude make him a fantastic ambassador for apprenticeships within Nifco and the industry.  He is a shining example."
A newly-formed North East Skills Alliance, made up of 12 local authorities, employers including Nifco, business membership organisations, training providers and the National Apprenticeship Service, was launched to help encourage local businesses to embrace apprenticeships.
Matthews added: "I hope Joshua's success encourages companies across the region to back apprenticeships.
"Apprenticeships offer people practical experience, as well as giving businesses the opportunity to shape their workforce, invest in people and develop a highly-skilled staff base."
● Pictured above (left to right) is Nifco engineering manager Andy Dunn and Apprentice Josh Appleyard with SW Durham Training business development manager Kate Chapman.