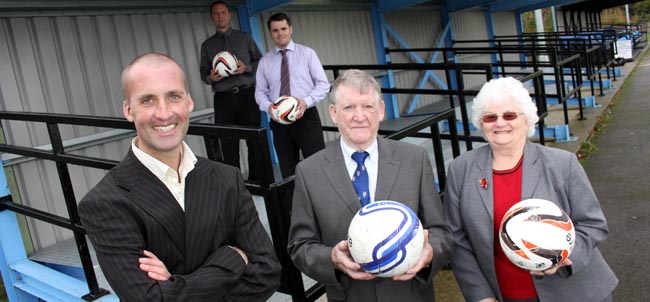 Newton Aycliffe's Northern League football club has received a £20,000 cash boost to help further improve their ground.
Aycliffe, who play in the Ebac Northern League first division, have received the helping hand from the Great Aycliffe and Middridge Partnership (GAMP) thanks to local councillors.
The money has gone into a number of ground developments, mainly the creation of a new 'Supporters Bar' behind one of the goals, as well as new steel terracing for one of their stands.
The cash was allocated from the budgets of former local County Councillor John Moran and current Councillor Sarah Iveson, each giving £10,000 each from their Neighbourhood Budget Funding earlier this year.
The money was met with cash donated by two local firms – Allan Oliver Reinforcing and Finley Structures – to help fund other areas of ground improvement, including the foundations and drainage for the new bar, while there are plans to erect a viewing area above it.
The new improvements came on the back of a number of investments made at Moore Lane Park, which was first opened in 2008 after a £300,000 grant from Sedgefield Council's Local Improvement Programme and a further £20,000 from the Football Foundation.
Since then, more cash has been pumped into ground improvements. Landowners Aycliffe Sports Club and the Football Foundation went halves on a new £20,000 all-seater stand, while the William Finley Stand, built by sponsors Finley Structures, soon followed.
These latest developments take the total investment in the ground to almost £400,000 in five years.
The club's general manager Dan Lewis said: "We've been making steady improvements to the ground year on year, in a bid to provide the best spectator experience possible, while also providing playing conditions that are appropriate for the standard.
"These latest developments are hoped to make a big improvement, particularly for our loyal fans, because previously we were one of very few Northern League clubs without a bar within our ground.
"Now, thanks to a partnership approach between us and our landlords, Aycliffe Sports Club, supporters are able to enjoy hospitality on site."
Supporters won't be allowed to drink pitchside, in accordance with FA rules, although the availability of a nearby bar is expected to be a new attraction to both home and away fans.
Mr Moran, a Sunderland season ticket holder, wanted to make the donation as one of his last actions as a Durham County Councillor.
"I just love football and I love to see our hometown being represented in the Northern League," he said.
"I hope the ground improvements will enable the club to attract more fans so they can continue to do an excellent job."
Cllrs Moran and Iveson donated £4,000 from their budgets to various improvements last year.
GAMP Coordinator Brian Riley said: "This is a fantastic project that helps the town's football club.
"Funding will provide a number of benefits not only for the club but also the hundreds of supporters who enjoy following their local team.
"We wish Newton Aycliffe FC future success and to establish themselves in the Northern League."
Mr Lewis added: "We're vey grateful to GAMP for their continued support.
"We feel the latest developments will add considerably to the supporter experience we can offer at Newton Aycliffe, and we hope will lead to increased numbers coming through the turnstiles.
"We must also thank Aycliffe Sports Club for their understanding in bringing this new facility to fruition, which we feel sure will increase revenues into both the Sports Club and the football club.
"Partnership working – with the whole of the business community in Aycliffe – is very much the key to how we are looking to develop the club going forward."
● Pictured (above) is Newton Aycliffe FC general manager Dan Lewis (left) with GAMP officials Brian Riley and Adam White (background) and Councillor Sarah Iveson and John Moran (second right).