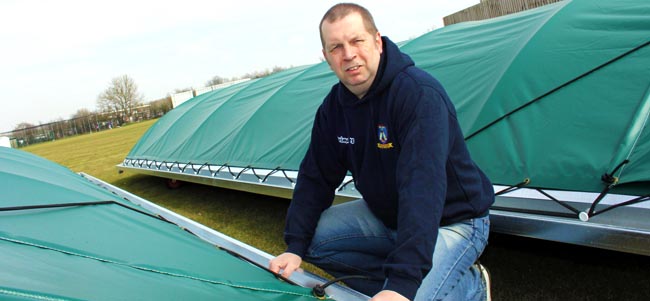 By Martin Walker
Thousands of pounds has been spent to improve facilities at the town's cricket club as it gears up for an exciting new league this summer.
Officials at Newton Aycliffe Cricket Club are gearing up for an historic first game in the North Yorkshire and South Durham (NYSD) League when Yarm come to Aycliffe Sports Club for a big match on Saturday (20th April), starting at 1.15pm.
Aycliffe have played in the North East Durham League for the past 13 years, but after a lot of hard work behind the scenes and more than £12,000-worth of ground improvements, they're now ready to mix it with the big guns of local cricket.
Cash from Great Aycliffe and Middridge Partnership (GAMP), Aycliffe Sports Club and some from the Cricket Club's own coffers have been spent on improving the pitch and wicket as well as investing in new pitch covers and sight screens.
Chairman Ian Palmer said: "We started work on the pitch and the square at the end of last season to make sure it could be in tip-top condition for the 2013 season.
CLICK HERE TO SEE OUR VIDEO INTERVIEW WITH IAN
"Since then, with a great deal of help from GAMP, we've introduced roll on, roll off pitch covers which should help us get a lot of games on.
"We had a lot of games postponed last year, and hopefully we'll have a better summer this season, but the covers will hopefully help as well.
"A total of more than £12,000 has been spent. We have new sight screens, an improved scoreboard, drainage in a problematic area of the pitch, work on the wicket and general improvements around the ground.
"It's very exciting. We're looking forward to bringing some of the bigger clubs in the area to Newton Aycliffe, and we want our facilities to reflect what we're trying to do in the league.
"We'll be going to other grounds, some of the best in the league, and we don't want to be left wanting."
Aycliffe play Yarm at home this Saturday – 1.15pm. Admission is free, and the weather is forecast to be dry with sunny intervals, with temperatures around 13 degrees.