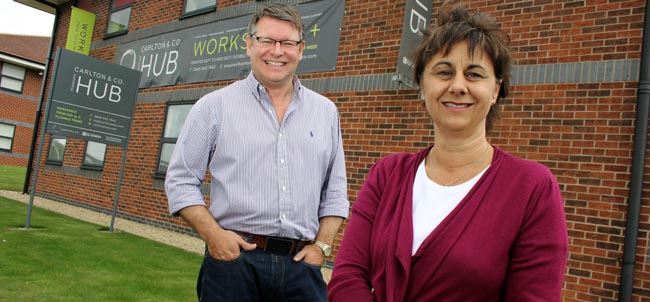 One lucky County Durham business will win over £100,000 of services in a Dragons' Den style competition being launched by a Newton Aycliffe collaboration.
The 'Achieve Your Dream in 2014' competition, organised by The HUB Partnership, based at The HUB Workspace at Aycliffe Business Park, will be launched at this year's Oktoberfest Engineering and Manufacturing exhibition on October 17.
The competition, which is open to any company of any kind – existing or start-up – based in County Durham, will net the winning firm a dream package of services including strategic input, marketing and social media strategies, training, support and PR.
Co-organiser of the contest Rachel Townsend Green (pictured above), of Au Fait Marketing, said: "We believe in trying to help stimulate the local economy and are trying to encourage companies to be entrepreneurial and develop their potential.
"So the partnership has come together with a prize worth over £100,000 involving a range of expert services which are available here at The HUB Workspace to help start up or develop an existing business."
The services range from strategic input, marketing and social media strategies, training and support, branding, promotional and website services, search engine optimisation, public relations and accountancy and even office space in the The HUB Workspace.
The full extent of the package and the companies involved in delivering it will be unveiled at Oktoberfest, as will the competition's dedicated website and application portal.
Those interested (who can't be an existing client of any of the HUB partners) will need to create a 500 word or 10 slide PowerPoint presentation initially, followed by a Dragons' Den type business pitch to a judging panel.
Craig Peterson (also pictured), managing director of Carlton & Co and one of the organisers, said: "This is our very own Dragons' Den for County Durham, with what we think is an outstanding business prize up for grabs.
"We have a vibrant community of businesses at The HUB that are continuing to create employment – it's the place to be and this package is really opening our doors to entrepreneurs who want to succeed."
Rachel added: "By doing this we hope to be able to enable applicants to really think through their business and how they want to take it forward.
"There is a huge amount of expertise within the HUB Partnership, and even if they don't win, they will have had the benefit of the experience and an insight into how they can develop and grow."
Rachel added that the contest was being launched at Oktoberfest as it was one of the largest exhibitions in the region and is taking place at the Xcel Centre in Aycliffe. Businesses are not restricted to engineering and manufacturing however.
The sixth annual day long networking and marketing opportunity is billed as the region's premier Engineering and Manufacturing event and is organised by the Engineering Forums in County Durham and other regional stakeholders. It brings together sellers and buyers from across the region and beyond.
The event also presents opportunities for service industries, with a dedicated area for those who work alongside and in partnership with engineering and manufacturing companies.
The event is sponsored by Business Durham, Derwentside Homes, EEF and South West Durham Training, Teesside University, Husqvarna, Scott-Grant, Cleansing Service Group, FEG and Deritend and media partners The Manufacturer and the Northern Echo.
Oktoberfest is being organised by County Durham's three engineering forums, North Durham, East Durham and South Durham Engineering and Manufacturing Forum.
To sponsor, exhibit or attend call 01207 524 366, or go to www.durhamoktoberfest.org.uk