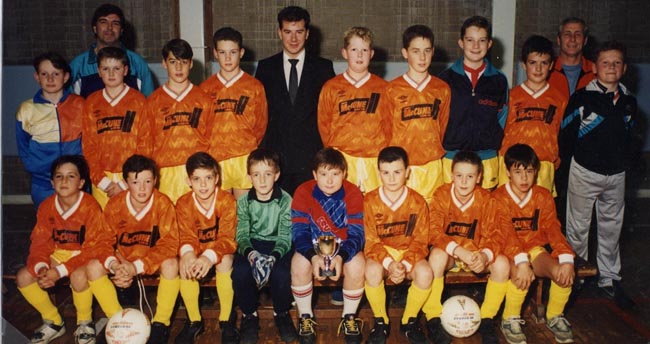 Newton Aycliffe Youth Football Club is planning a season of celebrations to acknowledge the fact that they have achieved 25 years of providing football for young boys and girls from the town.
The football club was founded in 1989 by a group of enthusiastic parents after realising there were no opportunities for young children to play football in Newton Aycliffe at that time.
The first ever Youthy team was an under 13 team that played in the Bishop Auckland Northern Echo League.
After that first season the club joined the Teesside Junior Football Alliance and during the following seasons the interest grew and the number of teams increased.
Seasons 1995/96 and 1996/97 saw the club become the first in the Teesside Junior Football Alliance to be awarded Club of The Year in consecutive seasons.
In 2001 the club was awarded the FA Charter Standard Development Club Status which ensured that at least one coach within the club achieved Level 2 Coaching award and every age group is coached by at least a Level 1 Coach.
All coaches have to complete an Emergency First Aid Course and a Child Protection Workshop to ensure the safety of the children and have a regular CRB Check by the Football Association.
This was followed in 2010 when the club were awarded FA Charter Standard Community Club status, one of only 24 junior clubs in County Durham achieving this award.
In 2004 we were awarded both the Durham County and Northern Region FA Charter Standard Club of the Year in recognition of the standards the club were setting and achieving.
The club's coaches have been rewarded over the years with many boys moving onto professional football club academies and several going on to play for football league clubs.
There's also a thriving development section for boys aged 4 – 6 years old, 13 boys teams playing team football from the age of 6 to 16 years old, a girls development programme, and girls team playing at under 11 and under 12 level.
The club was awarded, for the 3rd time, the Teesside Junior Alliance League "Club of the Year" in 2012.
This was in recognition of all the hard work that is put into the club from administration to performances on the pitch.
The league commented that the levels of performance, achieved across the club, were remarkable for the large size of the football club.
The club is the only youth football club that trains and plays all their matches in Newton Aycliffe, with excellent facilities at The Oakleaf Sports Complex. Winter training is also in Newton Aycliffe with 3G pitches and indoor facilities across the town.
The club is proud to have reached this landmark and continue to be one of the top junior football clubs in the County.