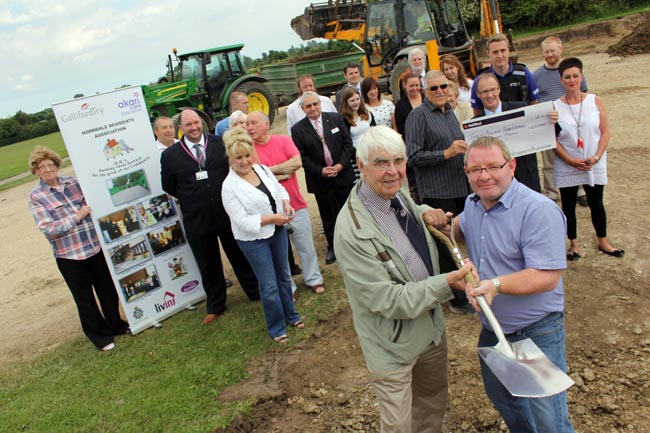 By Martin Walker
Work today officially started on a £40,000 Multi Use Games Area at Horndale Park in the town.
Determined members of the Horndale Residents Association (HRA) have relentlessly campaigned and fundraised over the last two years to finance the facility, known as a MUGA.
Great Aycliffe Town Council has provided the land for the multi-use pitch which will accommodate basketball, five-a-side football, tennis and cricket and replaces a former sports changing facility along Greenfield Way, opposite Greenfield College.
Support from a host of people and agencies has also helped to bring the project to fruition.
HRA Chairman Philip Clark and Brian Hall, Chairman of Aycliffe Town Council's Recreation Committee, cut the first sod today (Thursday) with other supporters in attendance (pictured above).
Labour Councillor Hall told Aycliffe Today: "The Town Council, the County Council and the residents have all worked together to bring it to where we are at the moment and it shouldn't be long before we see it completed.
"The Residents Association have raised the hard cash and I applaud them for it.
"We've co-operated as a Town Council and at the end of the day it's a good outcome."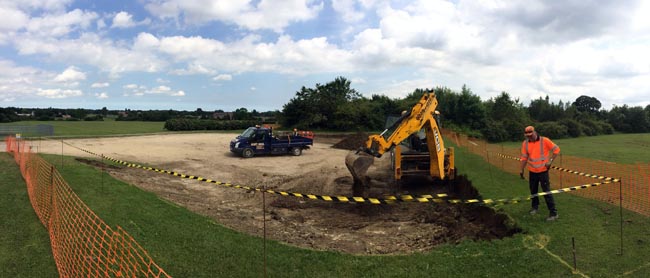 Work starts on the Multi Use Games Area at Horndale
Phil Clark beamed: "It's a magnificent day!
"About two years ago I made a promise to the youngsters of this area that I'd do what's possible, or what I'm able to do, to build this and I'm delighted to say I've fulfilled that and give the youngsters of this area a facility that children in other areas of the town already have.
"Now we can actually see something and it's not bits of paper and cheques… promises and phone calls… it's now happening, and it's a very proud day for everyone who has helped out."
Those who have supported HRA's campaign include Newton Aycliffe Rotary Club, Great Aycliffe and Middridge Partnership (GAMP), ROC Solid, Aycliffe Youth Council, Honest John, Tyne Tees Crushing, livin, Christ's Hospital Sherburn, Neville Community Centre, Newton Aycliffe Evangelical Church and County Durham Police has also helped to bring the project to fruition.