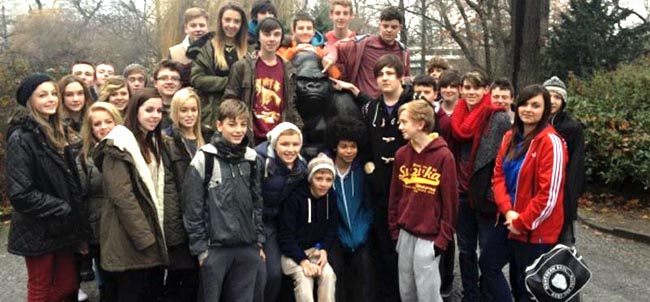 Students from Woodham Academy were the envy of their peers in the last week of the school term when forty five students and teachers experienced the life and culture of Berlin at Christmas time.
The visit provided young people with an opportunity to travel, speak German, appreciate foreign culture and above all have fun in the process.
The visit was also designed to complement the GCSE History syllabus, where students study Germany from 1929 – 1947.
Students made an emotional visit to the Sachsenhausen Concentration Camp just outside of Berlin.
Many appreciated this visit and remarked that images on screen or in books were made "real".
The Berlin Wall and Checkpoint Charlie were a prominent feature of the visit as well as the Brandenburg Gate.
A firm favourite was the visit to Berlin Zoo where students encountered polar bears, brown bears, chimpanzees, jaguars, lions, penguins and sea lions.
Students stood mesmerised by the gorillas…perhaps even recognising a little bit of themselves in their behaviour!
Entrance into the famous Reichstag was also granted; a government building of huge historical importance. Students were given their own personal audio guide that gave them information about the current use of the building and its history dating back to the German Empire.
Without doubt, the Christmas markets were a big hit with the students. Many mums, dads, grans, grandads, aunties, uncles, brothers and sisters in Newton Aycliffe were showered with gifts upon their return!
Several students sampled the traditional german Christmas Market culinary delight: Curywurst und Pommes (Curried sausage and chips) after learning from Miss Wass that they couldn't go home without trying it! After having eaten the recommended dish, they then told others to order it!
In short, "Berlin 2012" was a great success for Woodham Academy and, certainly for those involved, will be a lifelong memory.