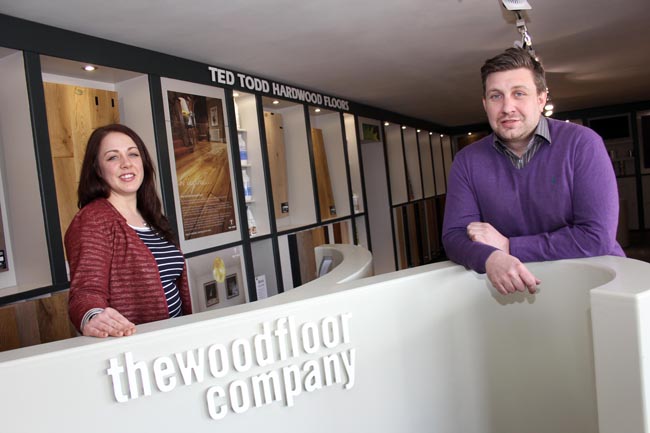 By Martin Walker
County Durham wood specialists have more than doubled their workforce in the last two months after celebrating a record-breaking start to the year.
The Wood Floor Company, which lists celebrity chef Gordon Ramsay as one of its customers, has spent thousands of pounds on renovating its premises on Whessoe Road in Darlington.
Now directors Tom Cockerill and Sarah Fanning – a Newton Aycliffe couple who are set to tie the knot this summer – are expecting turnover to at least double this year after increasing staff numbers from eight to 16 in the last two months.
They've spent £35,000 on their purpose-built facility, which is now officially the largest Ted Todd and Atkinson & Kirby showroom in the UK, and now hope to hit a £1m-a-year target.
SEE OUR PICTURE GALLERY BELOW
Tom said: "Orders are starting to go through the roof and the number of people we're getting through the door has exceeded our expectations.
"Last year we turned over £400,000 and we're on course to do about £800,000 as it stands, but the target is to hit the £1m mark by February 2015."
The Wood Floor Company is the only official Ted Todd showroom between Edinburgh and Manchester, with about 75 per cent of business coming from domestic home owners and the rest through commercial and public sector.
Tom personally worked on a new kitchen for Gordon Ramsay's Wandsworth Common home in South London as well as a project for the journalist and commentator Janet Street Porter.
Closer to home, the firm has worked on projects at Durham's Cathedral, The University of Hull as well as the Dolphin Centre in Darlington.
"It was fantastic to work for high-profile personalities, but our bread-and-butter comes from our doorstep in County Durham and Darlington," says Tom.
"We're now gradually increasing awareness of our name to the whole of the North."
Sarah added: "Investing in the business has really paid off for us.
"It was a gamble but we think the standard of products we're dealing with and selling on a daily basis are some of the best available."
The Wood Floor Company is holding two open days this week – one for trade on Friday (9th May) and one for the public on Saturday (10th), when refreshments will be available.
For more details go to www.thewoodfloor.co.uk
• Pictured (above) is The Floor Company directors Tom Cockerill and Sarah Fanning inside their purpose-built showroom on Whessoe Road in Darlington.
Picture gallery below shows The Wood Floor Company's new showroom…