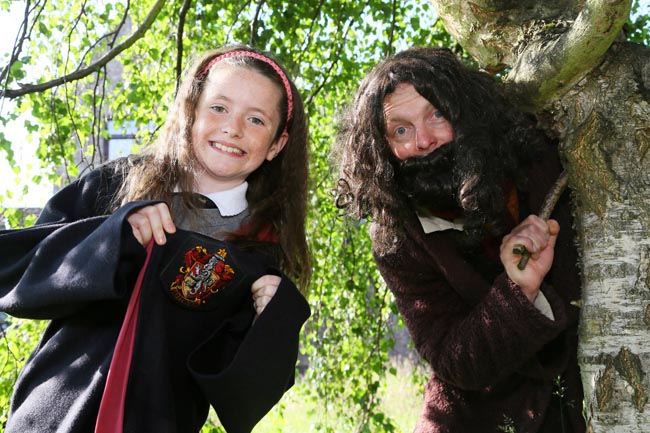 Pupils from a Newton Aycliffe school enjoyed a magical walk as they made their way to school dressed as students from Hogwarts.
St Joseph's RCVA Primary School pupil Anna Shorten, 9, won a competition to decide the theme of the walk as part of the MEGA Motion campaign.
Anna chose Harry Potter and was delighted when Hagrid himself turned up at her door to escort her and her classmates to school, on the morning of July 5.
As well as her fellow pupils, Anna was joined by parents and the muggles of Local Motion as part of the Durham County Council-backed scheme.
Following the walks, Hagrid, played by a member of the Histrionics drama company, gave the pupils a special assembly at the school to highlight the issues of greener travel.
MEGA Motion comes under the wider Local Motion campaign promoting sustainable transport throughout south Durham.
The campaign aims to encourage children to walk, scoot or ride to school to make them aware of the health and environmental benefits from an early age.
Cllr Neil Foster, Cabinet member for economic regeneration, said: "It's great to see local children not only having a memorable day but leading the way in promoting healthier and more environmentally friendly ways of getting to school."