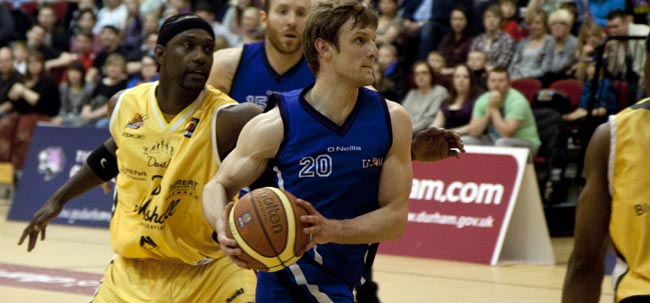 By Ryan Gillham
Durham Wildcats started their pre-season campaign in style after defeating Middlesbrough Lions 41-116 at Eston Sports Complex, home of the Lions with a new look team with only 4 players from last season's roster making a return.
The Wildcats began the game with all new starters and they started the game brightly opening up with a three pointer and taking an early lead at 5-9 when Head Coach Dave Elderkin called a timeout.
With three minutes left in the first, Durham subbed all 5 players but they didn't take long for them to pick up the pace with some positive play and some fast break points to finish the third 19-30 in favour of the Wildcats.
The second quarter saw the Lions been opened up by Durham as the score line extended by 29 points after some tenacious basketball by the Wildcats. With Durham claiming a lot of rebounds and second chance points the score early on in the second saw a 22 point gap at the half way stage. Middlesbrough Lions failed to make any ground on the Wildcats struggling to score many points which Durham took advantage of finishing the second 27-56.
Durham's offensive was proving too strong for the Lions as the Wildcats countered on the oppositions tired legs with some fast break scoring once again extending the lead to 29-68. After the timeout called by Lions Head Coach James Thomson, Durham found their range from behind the three point line hitting consecutive three's to create a bigger gap with 4 minutes left to play in the third as the score stood at 31-80. Despite Middlesbrough's efforts, they couldn't find the energy to keep up with the Wildcats as the third finished 34-94.
The fourth quarter saw the Wildcats finish off the game as they started with some tough offense and big rebounding. With a final push by Durham they managed to see out the game in style with a huge victory winning 41-116.
Head Coach Dave Elderkin was pleased with the victory but believes there is still a lot of work that needs to be done in the training camp.
"First of all we would like to thank Middlesbrough Lions for the game today and we have a lot of respect for the way they played as they didn't give up," he said.
"I am pleased about the way we executed the plays offensively as we have worked on that aspect a lot in training but I was disappointed on the defensive end as I feel we could have performed better despite the result. On the other hand we have two weeks before the regular season to put things right."