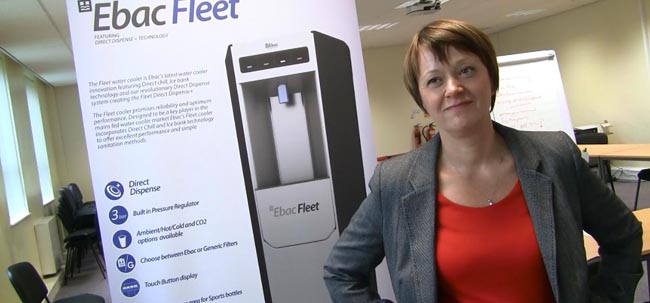 A business leader insists neighbouring companies should learn from each other instead of facing up to them.
Pamela Petty, the managing director of Ebac in Newton Aycliffe, County Durham, says she is learning a lot from her neighbours during a series of successful events being staged on Aycliffe Business Park (ABP).
Petty is vice chair of the ABP steering group, which organises regular networking events, and she has just hosted a business planning workshop which was completely free to firms residing on the park.
One of the core objectives of the ABP group has been to share knowledge in order for all to benefit.
Another news and networking event is due to be held on Friday October 25, and Petty said: "I just wanted to share with other businesses some of the issues that we've found when it comes to trying to plan for the business.
"And I think that's one of the business group's strengths is – there are some fantastic businesses here, and we can learn a lot from each other.
"Just by sitting down and talking about a few subjects, and talk about the way we think about how to take the business forward, other people might learn from that.
"And, with a bit of discussion, I can learn something as well. We can take things back and look at the way we do things.
"It's not really a master class, we just talked about practical things that you can do to try and get more out of your business and to grow, because hopefully that's what everyone wants to do."
Other high-profile businesses regularly attend the ABP events and meetings at Aycliffe, including South West Durham Training, Finley Stuctures, HPM Group and Stiller Warehousing and Distribution.
Simon Williamson, the managing director of High Force Training, who attended the business planning workshop, added: "I help people with business plans and it was a great refresher, looking at markets, what you do, what your core business is and who you're trying to attract.
"One of the things we looked at particularly was the geography of your market. I went to a meeting in South Wales, it was eight-and-a-half hours in the car for a 35-minute meeting, and you think is that business I really want there are lots of great businesses right here in Aycliffe and the North East?"
The next news and networking event is due to be held at the Xcel Centre on Friday October 25 from 8.30am – businesses based on ABP only can register by going to www.aycliffebusinesspark.co.uk