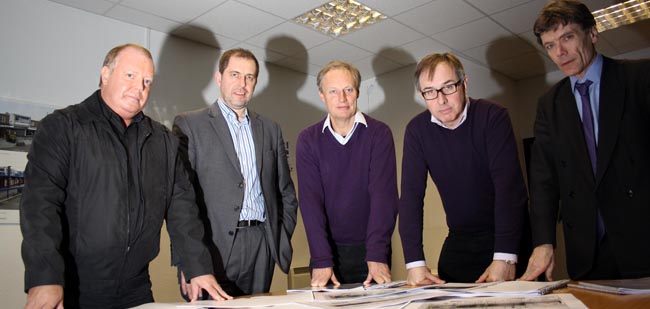 By Martin Walker
A special video feature about the £2m makeover of Newton Aycliffe's town centre is now in our Video Vault.
As exclusively revealed on Aycliffe Today on Wednesday, the £2m spruce-up is expected to start on Monday 4th February and be finished by November this year.
£2M TOWN CENTRE MAKEOVER REVEALED
The latest development is the third phase of a four-phase £10m 'Master Plan' – with the final part expected to start in 2014.
Our video feature includes some 3D images of how the new town centre will look, and we also talk to Freshwater's commercial manager Andrew Thomson as well as the architect behind the scheme, Mark Kitson.
CLICK HERE TO SEE THE VIDEO FEATURE
The plans were on display to residents of the town centre on Thursday, while key people were also available for people to speak to.
They included (pictured above left-to-right) Bryan Haldane (Newton Aycliffe town centre manager), Mark Kitson (Kitson Architecture), John Tinley (MJ Mapp, management agents), Gary Hale (Bisham Asset Management) and Andrew Thomson (commercial manager, Freshwater).
We'll bring you more on this later today and tomorrow.