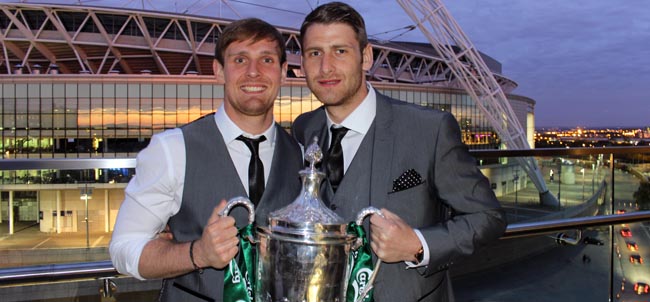 By Martin Walker
Newtonian Chris Mason enjoyed an unbelievable triple celebration last week.
The former Woodham Academy student and Aycliffe resident became a father for the first time last Wednesday.
Three days later he was named captain for Spennymoor Town in their FA Carlsberg Vase Final against Tunbridge Wells, before lifting the trophy in front of the Royal Box at Wembley.
"It's a dream," said the 26-year-old, pictured above with injured club captain Danial Moore shortly after the glorious win.
"It hasn't sunk in yet but it might later in the week when I get chance to spend time with Beau and the baby, and the winners' medal."
Fiance Beau-Louise Morton, 25, gave birth to their 6lb 12oz son Fredrik 'Freddie' Mason in Darlington Memorial Hospitalat 6.56pm on Wednesday (May 1).
Chris said: "I was always going to go to Wembley. The plan was to go down, and if Beau went into labour I'd hot-foot it back to the North-East.
"Luckily Freddie has come nice and early which meant I could go to Wembley.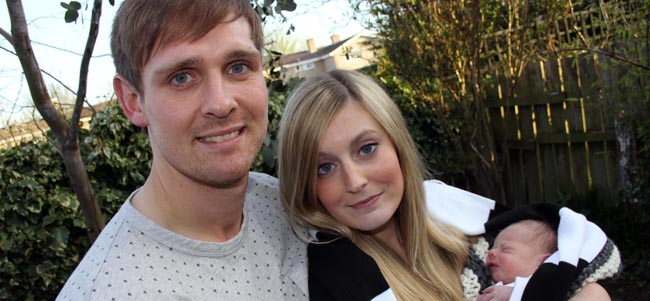 "What is it the adverts say? If Carlsberg did weeks, this would probably be the best in the world!
"I must admit, it does put everything into perspective. As soon as I saw Freddie, it was an emotional moment, and I had a little cry."
One of Mason's big pals, the Boro goalkeeper and fellow Newtonian Jason Steele, was one of the first to offer his congratulations.
Steele said: "I'm absolutely delighted for Mase, he's a top lad and it was an unbelievable week for him and his family."