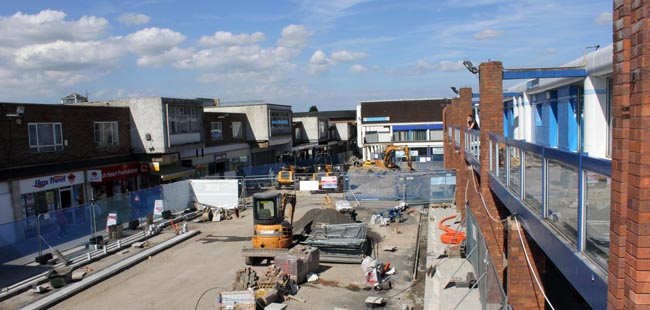 Plans to redevelop Newton Aycliffe's town centre have been ramped down…
But Newtonians needn't worry, £2m plans to give our ugly shopping centre a facelift took a turn for the better when the iconic ramp was demolished.
Its removal is the third of an exciting, four-phase redevelopment to give the town centre a new lease of life.
The currents works, which is expected to last until late in the year, includes:
• Demolition of ramp
• Demolition of the Boyes ramp
• Demolition of the spiral stair
• Removal of the heavy canopies to the elevation of Beveridge Way
• Removal of the existing trees, containers and street furniture.
Followed by:
• Construction of new robust hard surface finishes
• Construction of new external spiral stair
• New tree planting, lighting and street furniture layout
• New street furniture incorporating local artwork
The first phase of the town centre 'Master Plan' redevelopment was Tesco and the relocation of the library.
The second phase included the demolition of the old library and surrounding buildings and the construction of the new Aldi store.
The third phase is the forthcoming makeover of the town centre itself.
A fourth phase, which involves the demolition of the shops along Beveridge Arcade and opening up the other end of the town centre, can't begin until 2014 but will total around £10m spent on the whole redevelopment.
£2M TOWN CENTRE MAKEOVER REVEALED
Click here to see a recent video showing various angles of the town centre development.
More pictures are below…