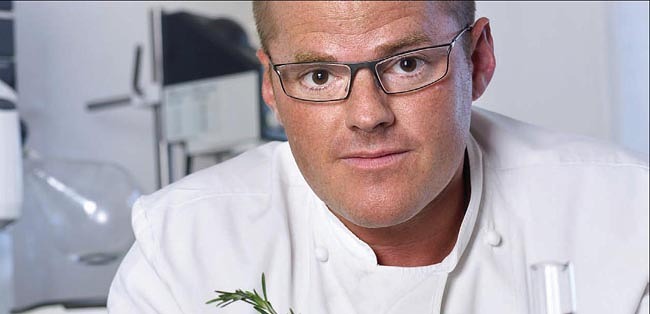 Brodie Millichap picks out this week's TV highlights…
Five Picks Of The Week
The All New Gadget Show: Monday 8pm, Channel 5.
Jason Bradbury and Pollyanna Woodward travel to Israel where they take a dip in the Red Sea to test two underwater cameras. Elsewhere they visit an event for technology enthusiasts.
Heston's Fantastical Food: Tuesday 9pm, Channel 4.
Creative Chef Heston Blumenthal (pictured) celebrates the tea break on a gigantic scale this week as he sets out to create the world's biggest packet of biscuits. Heston doesn't stop there though, as he also looks to create a pyramid-shaped tea bag big enough to serve an entire town.
Crimewatch: Wednesday 9pm, BBC1.
Kirsty Young returns for a new series of the crime-busting show as she appeals for help to solve the disappearance of a two-year old in 1981. There is also an inside view as to how detectives proved the parents of 17-year-old Shafilea Ahmed were guilty of her murder.
Hunted: Thursday 9pm, BBC1.  
The last of the drama series, starring Melissa George, sees Sam exposed as a spy following a failed attempt to kill Jack Turner. This leads to her recalling the truth about why Hourglass wants her dead.
Sarah Millican: Chatterbox Live: Friday 9pm, Channel 4.
Geordie comedian Sarah Millican visited London in 2011 and here you can view her show in which she shares humorous insights into her life.
Soap Watch:
Coronation Street sees Fiz end up in A&E when the psychotic Kirsty arranges an 'accident' at the factory after she gets it into her head that Fiz is trying to steal her fella Tyrone.
In Emmerdale, Ashley's ex-wife Bernice makes a return to the village this week and she is still as sharp-tongued as ever as she straight away causes friction among the locals.
Eastenders sees disaster strike this week when Lauren and Joey, fleeing Walford together after being spotted kissing, crash their stolen car into the shop.