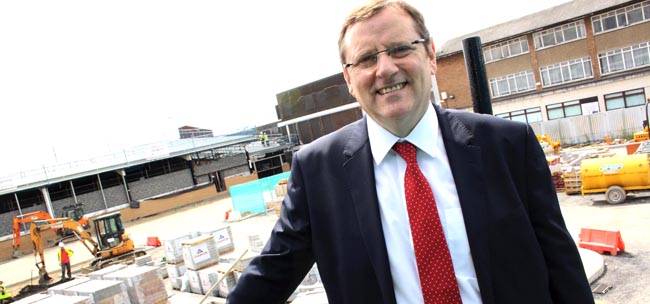 By Martin Walker
MP Phil Wilson says two exciting developments for the town will mark the beginning of a brand new era for Newton Aycliffe.
Mr Wilson, the Labour MP for Sedgefield, led a successful campaign to bring Hitachi Rail Europe's Intercity Express Programme to Aycliffe last month.
The £4.5bn deal will bring almost 1,000 jobs to the area, plus an estimated 10,000 in the supply chain.
He also visited Aldi's proposed new £1.5m store in Aycliffe's town centre, which the centre management say is just the beginning of a £3m facelift.
The new store on Greenwell Road, adjacent to Tesco, will create a new gateway to the town centre, and will bring up to 18 new jobs.
In an exclusive Video Interview with Aycliffe Today, Mr Wilson said: "I've been working on this since I was elected in 2007, with the developers and the council, to bring it to fruition, and it's starting to do that now, so it's great news.
"I can understand the scepticism, because there's been so many false dawns with the town centre, and I've been as frustrated as anyone else.
"The town centre has been a long haul, and there's still a long way to go, but it's starting to come together.
"The Hitachi factory will start going up in the New Year, and that's going to bring a lot of skilled jobs and money to the town, which is why developments like this are very important."
Go to our Video Vault to see our interviews with Mr Wilson, and town centre manager Bryan Haldane.