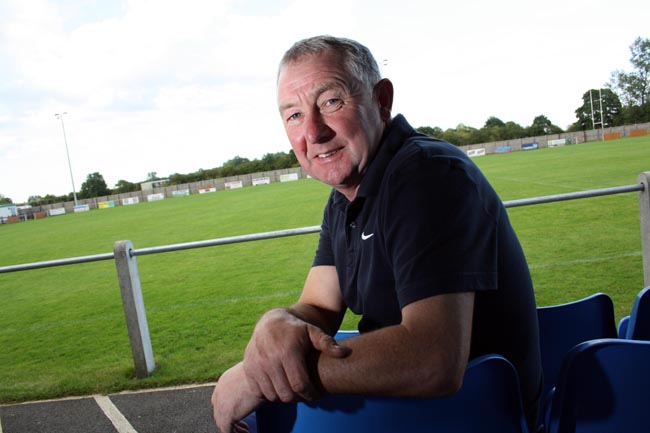 By Martin Walker
Newton Aycliffe FC chairman Allan Oliver admits the time was right for a fresh voice in the Moore Lane Park dressing room this summer.
And the former manager now thinks Aycliffe have the right man in charge in Kiwi Adrian Webster.
Oliver moved "upstairs" at the end of last season, ending his seven-year spell as Newtonians boss to take over the role as chairman.
Player coach Dan Mellanby was a popular choice as new manager, with club stalwart Gary Farley as his assistant.
But Mellanby decided the job wasn't for him last month, and Aycliffe moved quickly to bring in former New Zealand international Webster as the man to take the reins.
As Aycliffe prepare for the start of the 2014-15 season at home to neighbours and last season's FA Vase finalists West Auckland on Saturday, Oliver is confident the Blues can enjoy a stress-free campaign after struggling against relegation from the Northern League first division last year.
In his first interview since taking over as chairman, Oliver told Aycliffe Today: "It's been an eventful summer to say the least!
"Nothing was pre-planned, it's football and things change.
"For me, I set out what I wanted to do, and that was to get Northern League football to Newton Aycliffe and consolidate us as a first division team – not by myself, I might add. I played my part.
"I just thought it was time for a change. Sometimes the time's right for a fresh voice in the changing room.
"It was something I couldn't walk away from. I wanted to stay involved. My role now is to support the manager and help him as much as I possibly can, both with the budget and looking at new players if he needs that help.
"Dan come along and wanted the job, took it and obviously circumstances changed and he couldn't continue.
"So we moved quickly to bring Adrian in, and good luck to the lad. He's got good experience and has played at the highest level, so fingers crossed."
Oliver has experience of managing other clubs in the Northern League, including Crook Town and West Auckland, and he thinks Aycliffe have done well to maintain their top-flight status.
He said: "You just have to look at West Auckland. They struggled for a lot of years before they had the financial support they have now, and they're flying high.
"We just have to remain focused. You have to walk before you can run, and in terms of the size of this club, we're doing well.
"We would like to be comfortable, top 10 would be great and win a few games in the FA Cup and have a few days out in the Vase.
"But it would be nice to be pressure-free, and not looking over our shoulders. We had a lot of injuries last season and hopefully that won't be as bad this season.
"We've brought a few players in and we'll see how they get on."
• Aycliffe's curtain-raising game at home to West Auckland on Saturday kicks off at 3pm, with admission £6 adults and £3 concessions, while Under-12s go free. Members of the club's Junior Affiliates Scheme also get free entry, with accompanying adults paying just £3.