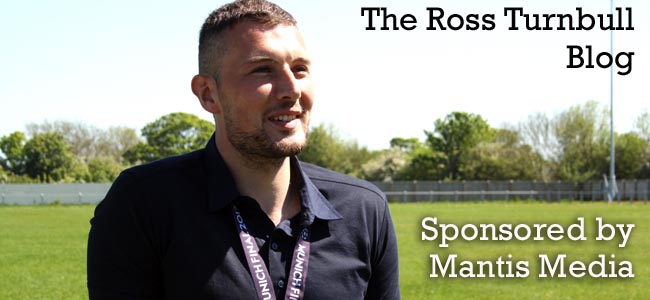 After a short break, Ross Turnbull's popular blog returns to Aycliffe Today…
It's been quite a while since my last blog, so there's a fair few things to talk about, what with our trip up to Sunderland this weekend!
The new manager has settled in really quickly and the lads have responded to him, as they always do.
Results haven't been good, there's no hiding that, but we got a great result on Wednesday night and we're looking to take that confidence into Saturday's game at Sunderland now.
I remember talking, in this blog, about a rough patch last season, then we went on to win the FA Cup and Champions League, so we know a thing or two about keeping calm, and carrying on.
Going to Sunderland is always difficult, no matter what kind of form they're in. The Stadium of Light has always been a great arena to play in, the atmosphere is always good and the crowd get behind them.
I remember playing there a few times. One game, which Mackems will remember fondly, was when my old mate Michael Chopra – who I'd been on loan with at Cardfiff before – scored twice to give Boro a 2-0 win. He's never let me live that one down since!
I think Sunderland's form and their league position has been a bit of a surprise this season, if I'm honest. They've got a top manager there and they've signed some excellent players, sometimes it's difficult to just put your finger on it.
I'm sure they'll be fine, though, and their fans will be well up for Saturday's game – they always get wound up for the big ones.
For me, it'll be nice to be back in the North-East. I don't get back very often, but it'll be a fleeting visit, because we fly out to Japan on Saturday night for the World Club Championships.
I'll probably get to see some friends at the hotel on the Friday night and my parents are going to the game so I'll hopefully catch them there, and obviously I'll be able to have a catch-up with Adam Johnson and Lee Cattermole. We weren't in the same youth side, but we came through the reserve team at Boro together, and it's always nice to see old friends.
We fly out to Japan, straight from Newcastle, after Saturday's game. We play the semi-final against Monterrey next Thursday, and the final and third-placed play-off are played on Sunday.
It'd be fantastic to come back with another medal, especially after winning the FA Cup and European Cup earlier this year. To put a World Club medal in the cabinet will be the icing on the cake of what's been an unforgettable year.
Another big game on the calendar this weekend, of course, is my hometown club Newton Aycliffe's game with Darlington, one of my former clubs.
I only played one game for the Quakers, during a loan spell in November 2003, and to think they're in the same league as Aycliffe nine years later is just incredible.
I remember going to games at Feethams when I was younger, me and my mates would go in the Tin Shed. Aycliffe were eight leagues below Darlo at that point.
It's terrible that they were punished so severely and see them plummet through the leagues like that, but credit to their fans who've stuck with them.
We've seen the likes of AFC Wimbledon suffer in the same way, but look at them now. I'm sure Darlo have similar aspirations and I'm sure, with their following, they can replicate Wimbledon's rise from the ashes.
For now, though, Saturday provides Aycliffe with a fantastic fixture. Let's not forget their achievements in climbing through three leagues in the last five years. They've earned their place in the Northern League first division.
I know they had a wobbly start to the season, but they're competing with some big clubs in that league, with a lot of financial backing, so the fact they did so well last season is testament to the players and management.
I'm sure Aycliffe, like Chelsea, will steady and go on to enjoy another enjoyable season.
Until next time…