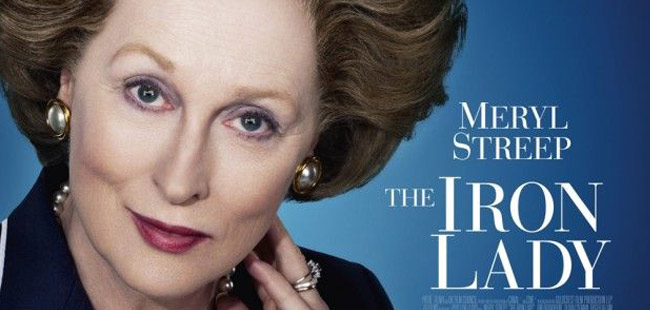 By Martin Walker
It certainly wasn't anything like I expected – and not necessarily in a good way.
Stunning performances by Meryl Streep and Jim Broadbent aside, The Iron Lady is a sad portrayal of an ageing Margaret Thatcher suffering with dementia, set in the modern day.
With insightful flashbacks to her early political years and eventual road to Number 10, the film – directed by Phyllida Lloyd (Mamma Mia!) – labours on Thatcher's senility and her struggles in coping with the loss of her husband, Denis.
Memories of her impressive rise through the Parliamentary stakes in the 1970s and famous speeches, including the 1980 "lady's not for turning" conference, are all-too infrequent, and instead spends too much time illustrating how Thatcher hallucinates regular discussions with Denis, two years after his death.
Streep, though, is superb. And Broadbent plays Denis brilliantly, while Thatcher in her early days is portrayed by the equally delightful Alexandra Roach.
The film begins with an elderly Lady Thatcher buying milk unrecognised by other customers and walking back from the shop alone.
Over the course of three days, Thatcher looks back on defining moments of her personal and professional life, reminiscing with the deceased Denis, and she is shown as having difficulty distinguishing between the past and present.
Other flashbacks recall Thatcher's youth working in her father's grocery store in Grantham, listening to his political speeches as Alderman, and her struggle as a lower middle-class young woman trying to break into the male-dominated Tory party, along with her decision to stand for Leader of the Conservative Party, her voice coaching and image change.
The film also covers historical events during her time as PM, and by 1990 Thatcher is shown as an imperious, ageing figure, ranting aggressively at her Cabinet, culminating in her downfall.
Love her or loath her, Thatcher is one of the country's most famous and controversial politicians in history.
But, unfortunately, The Iron Lady doesn't do her story justice.
Showings:
The Station Cinema, Darlington
Wednesday (25th January): 5.30pm, 8.15pm
Thursday (26th January): 5.30pm, 8.15pm
Showcase Cinemas, Teesside
Tuesday (24th January): 11.20pm, 2pm, 4.40pm, 7.25pm, 9.55pm
Wednesday (25th January): 11.20pm, 2pm, 4.40pm, 7.25pm, 9.55pm
Thursday (26th January): 11.20pm, 2pm, 4.40pm, 7.25pm, 9.55pm