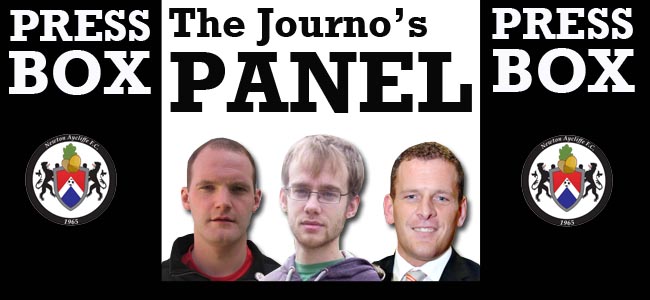 Our panel of three football writers give their predictions on Newton Aycliffe's game this weekend…
Three points are awarded if our 'experts' pick the exact score, 1 point awarded if they get the result correct.
Glen maintained his lead last week, but Martin clawed back some ground by taking Billingham Town to win. Though he was nowhere near the 8-0 scoreline! Expert?! Huh!
Glen Robertson – 5
Paul McGeary – 4
Martin Walker – 4
The panel run their eye over Aycliffe's trip to mid-table Ashington…
Glen Robertson
Both times Aycliffe have put in a morale-boosting performance this season, it's been followed by a really tough fixture. After Allan's men beat Marske, they were tasked with league favourites Darlington away. After the six-goal thriller at South Shields on Tuesday, it's a trip to Ashington. Unfortunately, I can see another difficult game ahead. Like Darlington, I think you'll see a superb performance, one that deserves a point at the very least, but they'll come away with nothing to show for their efforts. Ashington are a top outfit at this level and, backed by last season's FA Cup prize money, they're a force to be reckoned with. They even breached Spennymoor's supposed unbreachable defence in midweek.
Ashington 2-1 Newton Aycliffe
Paul McGeary
I know we called for solidarity and I know last week was the ultimate low point in our season, but Ashington are a strong side, especially at home. Ok, so we grabbed a late, late draw there last season, with 10 men, but the Colliers are in the mix at the top at the minute and on Wednesday ran Champions Spennymoor close, becoming the first side to score past them in nine games this campaign. The skipper returns on Saturday however, and that will add some steel but suspensions kick in for Oliver and Mellanby and though I see us continuing from midweek in scoring goals, I think we may fall foul of a potent Ashington attack, which includes nemesis Marc Walton.
Ashington 3-2 Newton Aycliffe
Martin Walker
OK, so you're relying on me for some positivity yet again! 😉
The manager demanded a response at South Shields and that's what he got, which will hopefully be a turning point for Aycliffe. The Blues should have seen out three points at Filtrona Park on Tuesday night, but when you're at the bottom and down on your luck, nothing goes for you, hence Mark Peck's dubious red card. But it was a great point, in my opinion, and Aycliffe normally tend to raise their game against the so-called better opposition, and I think Ashington fall into that category, so I'm hoping Allan Oliver's troops will lift themselves on Saturday to put in a spirited, point-yielding display. Pub team? You're jokin' aren't ya…
Ashington 1-1 Newton Aycliffe