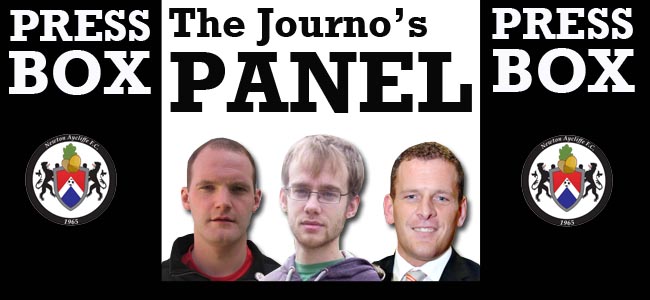 Our panel of three football writers give their predictions on Newton Aycliffe's game this weekend…
Three points are awarded if our 'experts' pick the exact score, 1 point awarded if they get the result correct.
All three experts went for a draw last week, thus not troubling the scorers.
Glen Robertson – 9
Paul McGeary – 8
Martin Walker – 7
Looking to improve their fortunes this week, the panel run their eye over the visit of superpower West Auckland.
Glen Robertson
Performances have improved lately, but unfortunately we're in the middle of an incredibly hard run of fixtures. After defeats to Whitley bay and Spennymoor, we now must face West Auckland. They've got goals all over their team. The fact Aycliffe's record goalscorer plays a deep midfield position for West is all you need to know! I'd be a lot more confident for this game if we had John Close and Danny Earl fit but, with that looking unlikely, I'm expecting another fully committed performance, but, ultimately, a defeat.
Newton Aycliffe 0-2 West Auckland
Paul McGeary
It gets no easier following Whitley Bay and Spennymoor and with injuries robbing us of key players I find it hard to predict anything but defeat here. Gardner's back, and with Moffat and Campbell in attack, West are a formidable outfit. We'll give it a bash, but will come up short.
Newton Aycliffe 0-4 West Auckland
Martin Walker
It's always a pleasure to welcome this delightful club and well-respected manager to Moore Lane Park. Sarcasm is also the lowest form of wit. Unfortunately, West will probably be the only people smiling at MLP on Saturday night, but as long as we continue to play the game as it should be played, and with dignity – as Allan Oliver's sides always do – we'll be able to keep our heads up.
Newton Aycliffe 1, West Auckland 2