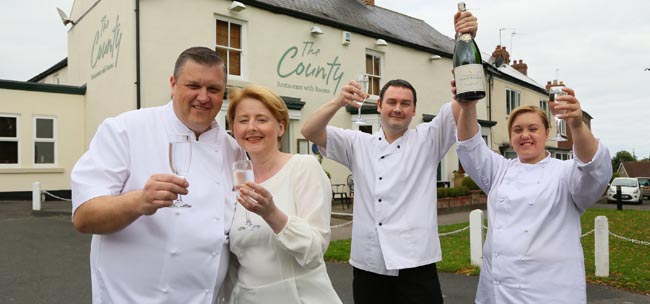 A Newton Aycliffe restaurant is celebrating after being named Dining Pub of the Year!
The County, in Aycliffe Village, near Newton Aycliffe, made national headlines over a decade ago when then Prime Minister Tony Blair entertained French President Jacques Chirac at the pub back in November 2000, when the two leaders were pictured sipping a pint of beer.
Now it has been selected as the best pub for grub in the Northumbria section of the national Good Pub Guide 2014.
The fine dining restaurant, run by Colette Farrell and Stuart Dale, was praised by the guide for its real ales, good wines and "popular, interesting food".
"We're absolutely thrilled to get this award," says Colette. "It's a reflection of years of hard work by all the staff.
"We're lucky to have a dedicated, conscientious and hard-working team of employees who don't settle for second best, so winning this award is just desserts!"
The Good Pub Guide is a national institution, the "bible for pub-goers".
Joint-editor of the guide, Fiona Stapley, said: "We have thousands of loyal readers who report to us all the time, they keep us in tune with how a pub is doing and we take their comments into serious consideration when choosing an award-winning pub.
"Customers now demand – and receive – high-quality home-cooked food using the best, local and seasonal produce available.
"Good food in pubs is essential and this hotly contested award is the accolade every pub wants to win.
"The County in Aycliffe is a friendly, well run pub with four real ales, good wines and popular, interesting food."
Stuart and Colette moved to The County, which now employs 28 members of staff, in January 2008. Prior to that, they ran the Hare and Hounds near Sedgefield for eight years.
Colette, from Manchester, started in the hospitality industry at 21, and moved to the North East in 1996, taking up the role of operations manager at Blackwell Grange Hotel in Darlington.
"I then moved into a HR role in 1998 before taking up a HR position De Vere Hotels in 2000," said Colette.
"We've gained a lot of experience over the years and, together with Stuart in the kitchen, we're the perfect partnership for The County."
A special feature on The County is in our September-October issue of Aycliffe Today Business, due out in the next few days.
• The Good Pub Guide 2014 (Ebury Press, £15.99) is organised county by county. With regular feedback from 2,000 loyal and eagle-eyed correspondents who look for real warmth and quality of service, it is the pub-goers' recommendations, backed up by editor inspections, that determine who's in and who's out year on year.